LIFE+STYLE

CHANDIGARH

LUDHIANA

BATHINDA

JALANDHAR

AMRITSAR TRIBUNE

JALANDHAR TRIBUNE

BATHINDA TRIBUNE

JAMMU TRIBUNE

KASHMIR TRIBUNE

DELHI

DEHRADUN

DEHRADUN PLUS
Virat, Rohit on fire as India stun Oz, complete 2nd highest chase in ODIs
* Overhaul 359-run target losing one wicket
* Kohli hits fastest ton by Indian
Jaipur, October 16
What do you do after watching a thriller like the one played out at Sawai Mansingh Stadium on Wednesday - admire India's herculean batting effort or lament the miserable bowling attack that was torn to shreds.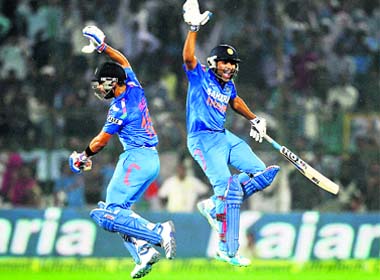 JAIPUR JIVE: Rohit Sharma and Virat Kohli exult after a scintillating win over Australia in the 2nd ODI in Jaipur on Wednesday. Sharma scored an unbeaten 141. — PTI
US ship won't be allowed to move till probe is completed: Govt
Chennai/Tuticorin, October 16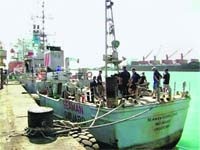 The US-based ship detained off Tuticorin port for illegally carrying arms and ammunition will not be allowed to move out till the probe was over, Shipping Minister G K Vasan said today as Tamil Nadu Q Branch Police took over the investigation from Marine police.
US vessel, MV Seaman Guard Ohio, detained by the Coast Guard after it entered Indian waters carrying illegal arms at Tuticorin Port on Wednesday. — PTI

OTHER PAGES

HARYANA: Govt notifies property tax rates


HIMACHAL: CM on inauguration spree in Nalagarh


CHANDIGARH: Audit report puts MC in dock


LUDHIANA: Two injured in firing incident


DELHI: Parliamentary Board to decide CM candidate: Gadkari

OPINIONS: Wait for outcome


BUSINESS: India may finance CAD with forex reserves: World Bank


NATION: Cong, BJP, Left trade charges


SPORTS: Spain, England make it to Rio

WORLD: Suicide bomber kills provincial minister, seven others in Pak



Lahore Log

The tribune guide to best colleges

Budget
2013-14

INDIA CHINA WAR 50 YEAR LATER

EARLIER FEATURES
2 Congmen suspended over hoardings showing Sonia ill
Lucknow, October 16
The Uttar Pradesh Congress today suspended two office-bearers for putting up hoardings stating party president Sonia Gandhi is unwell and urging her daughter Priyanka to contest upcoming polls from Phoolpur constituency.
PM to embark on trip to Russia, China next week
New Delhi, October 16
Prime Minister Manmohan Singh will embark on a two-nation trip that will take him to Russia and China, two of the five P-5 member countries, for a back-to-back bilateral engagement from October 20-24 seeking to advance New Delhi's "special and strategic partnership'' with Moscow and "strengthening'' relationship with Beijing.

Rajdhani, Shatabdi fares to go up from today
New Delhi, October 16
Passengers will have to shell out more for travelling in Rajdhani, Duronto and Shatabdi trains from Thursday as Railways has increased catering charges in these premier trains by about two to four percent.


Curbs on VIP movement at airports in poll-bound states
The move is intended to check inflow of black money and arms
New Delhi, October 16
In view of the upcoming Assembly elections, a different security arrangement will be implemented at all airports in the five poll-bound states to cater to the movement of VIPs. The aim will be to prevent inflow of black money and arms.
Coal scam: CBI books Birla, former Secretary
October 16, 2013
Flood challenge in Phailin's wake
October 15, 2013
109 killed in MP temple stampede
October 14, 2013
Phailin fury strikes Odisha, north Andhra
October 13, 2013
Odisha, AP brace for severe cyclone
October 12, 2013
Punjab, Haryana farmers key to food security scheme: Rahul
October 11, 2013
Payoff row: J-K House to summon VK Singh
October 10, 2013
15-day Keran operation ends, Army Chief blames Pakistan
October 9, 2013
India rejects Pak denial on incursion
October 8, 2013
Curfew, shoot orders in coastal Andhra town
October 7, 2013