Asaram's son Sai in police net, finally
New Delhi, December 4


Asaram's son Narayan Sai (41), who had been on the run since October 6 after two Surat-based sisters complained to the Gujarat Police that he and his father sexually assaulted them, was apprehended from Kurukshetra in Haryana last night.
Punjab VAT refund scam: CBI to lodge preliminary enquiry
Chandigarh, December 4
The Central Bureau of Investigations (CBI) would register a preliminary enquiry (PE) by the end of this week against several officials of the Punjab Excise and Taxation Department and the management of three private companies for their involvement in the Rs 500-crore VAT refund scam. Sources in the premier investigating agency told The Tribune that they have sought permission from their Delhi head office to register the enquiry.
School tank's dirty water leaves 40 Sirsa kids ill


Sirsa, December 4
Forty children were taken ill today after consuming contaminated water from a school tank in Modia Khera village in Sirsa.
A policeman records a girl's statement in a Sirsa hospital.

OTHER PAGES

PUNJAB: Health Dept suspends licences of 450 pharmacists in 2 months


HIMACHAL: Aerial trolley project for apples hits roadblock


CHANDIGARH: Sucha Singh's killers get life term


DELHI: Poll violence: Two cops injured in stone-pelting

BUSINESS: Big telcos to benefit from new M&A guidelines

OPINIONS: Another four-star General

SPORTS: Young Indian bats face fiery ODI test

WORLD: China defends air defence zone as Biden arrives in Beijing


Lahore Log

The tribune guide to best colleges

Budget
2013-14

INDIA CHINA WAR 50 YEAR LATER

EARLIER FEATURES
Record 67% turnout in Delhi elections
New Delhi, December 4
A record 67 per cent Delhi electorate voted today in the fiercely fought Assembly elections billed as a litmus test for the ruling Congress ahead of the upcoming Lok Sabha elections. This is a first-ever triangular contest between the Congress, the BJP and debutant the Aam Aadmi Party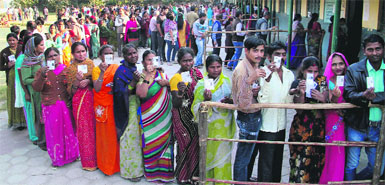 .
Voters line up at a polling station in Shalimar Bagh, Delhi. PTI
Investment Potential-Part I IT Sector
Punjab positioning itself as the next big IT destination in the country
Chandigarh, December 4
This will perhaps be the giant leap for Punjab — from being an agrarian economy to a knowledge and IT industry-based economy. The way in which the Punjab Government is aggressively wooing the IT sector and rolling out the red carpet for IT and knowledge-based industry, it seems, that in one sector at least, the state has been able to create a buzz and position itself as the next big IT destination.
PM promises Telangana, but Bill not part of LS agenda yet
December 4, 2013
Crucial WTO meet today, govt set to defend food security plan
December 3, 2013
In Jammu, Modi softens on J-K's special status, calls for debate
December 2, 2013
BSF fast-tracks 'great wall' in Jammu
December 1, 2013
Law intern names SC ex-judge AK Ganguly
November 30, 2013
Goa police move court, seek NBW against Tejpal
November 29, 2013
Raheel Sharif is new Pak army chief
November 28, 2013
Shinde: Pak should take urgent, quick action to punish attackers
November 27, 2013
Parents held guilty of murdering Aarushi
November 26, 2013
Iran ready to halt N-weapon plan
November 25, 2013