Beant killer released on parole
Mohali, December 25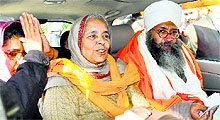 Gurmeet Singh, a militant convicted in former Chief Minister Beant Singh's assassination case in 1995, was released from Burail Jail on 28-day parole.
Gurmeet Singh (right) with his mother and sister after paying obeisance at Gurdwara Amb Sahib on Wednesday. Tribune photo: Parvesh Chauhan



Gurmeet bound by strict furlough rules
Kejriwal, team to take oath on Dec 28
New Delhi, December 25
Decks have been cleared for the installation of a new government in Delhi with Aam Aadmi Party founder-leader Arvind Kejriwal scheduled to take oath.
MoD clears Navy plans to get 16 shallow-water anti-sub vessels
New Delhi, December 25
The plans of the Indian Navy to acquire 16 indigenously built shallow-water anti-submarine vessels, for which it has received clearance from the Defence Ministry, takes forward the project that fits into their overall task of defending the long coastline in the changed maritime security environment of the region.
OTHER PAGES

HARYANA: Jats threaten to gherao Delhi


J&K: Minus the 'white' look, Christmas celebrated with fervour in city


HIMACHAL: CM warns Dhumals on their turf


CHANDIGARH: Be sensitive to victim: Court to police


LUDHIANA: Overbridge set for New Year opening


DELHI: Ramlila Grounds await Delhi's tryst with AAP

OPINIONS: The meeting of DGMOs


NATION: No rift in party, says Kejriwal


SPORTS: India to go for kill in Durban

BUSINESS: Ministry issues show-cause notices to eight firms

WORLD: Fierce fighting rages in S Sudan



Lahore Log

The tribune guide to best colleges

Budget
2013-14

INDIA CHINA WAR 50 YEAR LATER

EARLIER FEATURES
Bahrain diplomat booked for molestation
Mumbai, December 25
Amid the row over Indian diplomat Devyani Khobragade's arrest in the US, a Bahrainian envoy has been booked here for allegedly molesting the woman manager of his housing society but not arrested due to the diplomatic immunity he enjoys, the police said today.
Employment of domestic helps on agenda for talks with India: US
Washington/New York, December 25


With India hitting back by withdrawing certain privileges of American diplomats, the US today said the employment of domestic workers would now be on the agenda for the bilateral talks.
'Our kids were hacked, women raped…can't go back'
Muzaffarnagar riot victims refuse to return, want relocation in Muslim-dominated villages
Shamli/Muzaffarnagar, December 25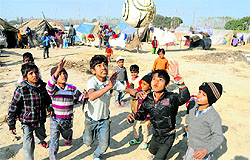 Tales of horror pour from every quarter as you enter Malakpur relief camp, the largest among 15 others in western UP's Shamli district.

Children play football at Malakpur relief camp in UP's Shamli district. Tribune photo: Mukesh Aggarwal

India, Pak DGMOs agree on new peace mechanism along border
December 25, 2013
Arvind Kejriwal to be Delhi CM
December 24, 2013
AAP all set to form govt in Delhi with Cong support
December 23, 2013
Kishenganga: India's right upheld
December 22, 2013
US adamant, not to drop charges against Devyani
December 21, 2013
Drop case against Devyani: India
December 20, 2013
Parliament clears historic Lokpal Bill
December 19, 2013
India downgrades US diplomats' privileges
December 18, 2013
Lt Governor recommends President's Rule in Delhi
December 17, 2013
Cong open to compromise on passage of Lokpal Bill
December 16, 2013