UKís MI-5 officers visited Golden Temple: RAW officerís book
New Delhi, January 15
Former Additional Director of the Research & Analysis Wing B Raman notes in his memoirs that at the request of the then RAW Chief RN Kao, two officers of the British Security Service (MI-5) had visited the Golden Temple as tourists and advised then Prime Minister Indira Gandhi to be patient and avoid action or use of police force.
AAP MLA dubs Kejriwal a liar, Delhi CM hits back
New Delhi, January 15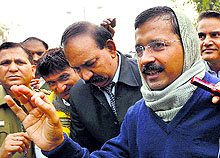 Differences in the Aam Aadmi Party (AAP) came out in the open today with party MLA Vinod Kumar Binny accusing the Delhi Government of deviating from its principles.

CM Arvind Kejriwal addressing members of the All Guest Teacher Association in New Delhi on Wednesday. PTI

HP, Uíkhand sops to continue till í17
New Delhi, January 15
The Cabinet Committee on Economic Affairs (CCEA) today extended the special industrial package for Himachal Pradesh and Uttarakhand till 2017, a move that will boost industrialisation and create more employment in the two hilly states.
OTHER PAGES

PUNJAB: Cash-starved govt in a fix as RBI changes norms for raising funds


HARYANA: Transport Dept rolls out list of red beacon beneficiaries


HIMACHAL: Session advanced to avoid poll code


CHANDIGARH: Another witness turns hostile


LUDHIANA: Commuters grin and bear it


DELHI: Secretariat becomes a Jantar Mantar

OPINIONS: Blast from the past

BUSINESS: Inflation eases to 5-month low of 6.16% in December

SPORTS: Novak stretched? Not quite

WORLD: 73 killed in wave of attacks in Iraq


The tribune yearender 2013 : year of corrosion

Lahore Log

The tribune guide to best colleges

Budget
2013-14

INDIA CHINA WAR 50 YEAR LATER

EARLIER FEATURES
Nanded pilgrims attacked in Rohtak; 1 killed
Rohtak, January 15
A member of a group of pilgrims from Punjab en route to Nanded Sahib in Maharashtra was shot dead by an unidentified car-borne assailant in Rohtak late Tuesday night.
Yellow rust spreads; Punjab ups vigil, Haryana on alert
Chandigarh, January 15


The Punjab Government today directed the District Chief Agriculture Officers to step up monitoring of the wheat crop affected by yellow rust in the state. The move came following more reports of yellow rust attack on wheat crop, especially in the Kandi belt and Banur area, near Rajpura.
In ash-struck Panipat village, no brides for young men
Sutana (Panipat), January 15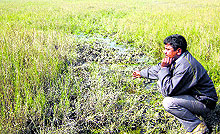 Sonu of Panipatís Sutana village is in his late twenties, but canít find a wife. The reasons are purely economic.


An affected farmer looks at his infertile land in Panipatís Sutana village

Cameron orders probe into Thatcher link
January 15, 2014
Revoking AFSPA will not help Kashmir: Army Chief
January 14, 2014
India offers DGMO-level talks with China
January 13, 2014
Moily wants SCís ex-judge probed
January 12, 2014
India Ďexpelsí US diplomat after Devyani indicted in NY
January 11, 2014
US court rejects Devyaniís plea
January 10, 2014
Better times ahead, PM assures diaspora
January 9, 2014
Priyanka chairs key Cong election meet
January 8, 2014
Canít be business as usual, India tells US
January 7, 2014
GSLV propels India into exclusive club
January 6, 2014