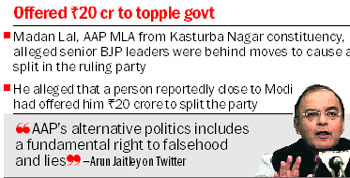 Manmohan wants 2% of GDP for R&D in science
Jammu, February 3
Science was yet to get its 'due', said Prime Minister Manmohan Singh today and emphasised that the science needed to be high in country's value system to get 'moral and material' support from entire society for its development.
Ashutosh's body in 'freezer'
Nurmahal, February 3
Six days after Divya Jyoti Jagriti Sansthan (DJJS) dera head Ashutosh Maharaj was said to be "clinically dead," dera representatives on Monday said his body lay in a freezer - a portable mortuary.



'Ex-driver' moves HC

OTHER PAGES

PUNJAB: Guru Gobind Singh Marg, Dashmesh Pillars face neglect


HIMACHAL: BJP disrupts Governor's Address, stages walkout


CHANDIGARH: Violators to be challaned from today


LUDHIANA: TB, AIDS patients at receiving end


DELHI: Suspend licence if BSES resorts to power cuts: Govt tells DERC

OPINIONS: Back to future

BUSINESS: 2G spectrum auction begins, demand sluggish in 1,800 MHz

SPORTS: Middle order shows revival signs

WORLD: Thai protesters renew efforts to oust PM


The tribune yearender 2013 : year of corrosion

Lahore Log

The tribune guide to best colleges

Budget
2013-14

INDIA CHINA WAR 50 YEAR LATER

EARLIER FEATURES
Anger on streets after Khanna boy's 'killing'
Gosla (Khanna), February 2
Relatives of 21-year-old Kulwinder Singh, who was allegedly killed in a firing by the Youth Akali Dal (Rural) president and his accomplices yesterday, staged a dharna on the national highway-1 by placing the body on the road and blocking the traffic today.
Captain of INS Airavat pays for error, removed from command
New Delhi, February 3
The Navy has cracked the whip for committing errors at sea and has removed the Commander of INS Airavat from command after one of the propellers of the warship got damaged when it travelled down a wrong alignment near the harbour at Vishakhapatnam. The warship, an amphibious one and used to land troops close to the shore, suffered damage to its propellers while entering the harbour on January 30.
The Tribune reigns supreme, again No. 1 in region
Chandigarh, February 3
The Tribune has yet again emerged as the region's No. 1 English daily newspaper in circulation, according to the latest report of the Audit Bureau of Circulations (ABC). According to the recently released ABC circulation figures for the period June-January 2013, The Tribune's circulation in the region comprising the states of Punjab, Haryana (excluding Gurgaon and Faridabad), Himachal Pradesh, Jammu and Kashmir and Union Territory of Chandigarh is 3,26,568 copies, way ahead of Hindustan Times (1,43,421) and The Times of India (1,09,516).
Third Front move: Jaya, CPI join hands
February 3, 2014
Rawat takes over as Uttarakhand CM; 11 ministers retained
Febuary 2, 2014
U'khand CM quits, Rawat top choice
Febuary 1, 2014
Cap on subsidised LPG cylinders up from 9 to 12
January 31, 2014
SIT to probe '84 riots: Delhi Govt
January 30, 2014
NC-Congress alliance in big trouble, Omar may quit
January 29, 2014
Selja, Viplove get Congress nomination for RS polls
January 28, 2014
No N-deal but boost for Indo-Japan defence ties
January 26, 2014
SC raps police over AAP dharna
January 25, 2014
RBI Governor allays concerns on withdrawal of pre-2005 notes
January 24, 2014
Pressure on Kejriwal to act against Bharti
January 23, 2014