'Missing workforce' add to residents' woes
Gurdeep Singh Mann
Tribune News Service
Talwandi Sabo (Bathinda), August 20
Even as the Municipal Corporation Bathinda (MCB) is all set to formulate its new MC limits after the notification of wards' delimitation has been issued, it seems to have conveniently forgotten the acute dearth of manpower required to run the show.
With a large number of posts lying vacant, the employees and workers of the corporation are assigned duties which do not match with their actually allocated tasks.
While the city residents fume at the filth and piling of garbage all around the safai karamcharis and other officials remain busy performing various tasks at the official or private residences of the senior government servants.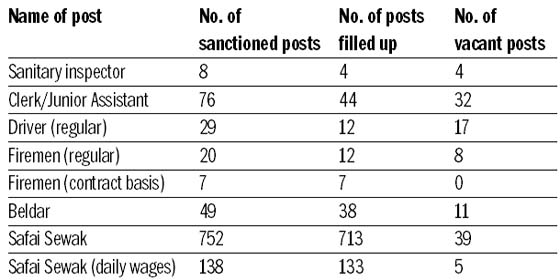 While some safai sewak's are performing the task of drivers, gardeners are working as helping hand at the residence of the Deputy Commissioner and other senior functionaries, clerks are tasked with the work of supervisor, sanitary inspectors are working as clerks and so on.
Admitting this, the corporation officials stated that they have taken up the issue with the secretary local bodies and Punjab Chief Minister.
"We will again take up the issue with the senior most officials on August 26 to discuss modalities to withdraw major workforce deployed in the residences of the IAS, the IPS and judicial officers and others residences," said Ravinder Cheema, president of the Municipal Workers' Union-Municipal Corporation Bathinda.
President of the Safai Sewak Union Veer Bhan said a major chunk of the workforce of safai sewaks continued to render their services at the residences of the government services despite the fact that they are actually suppose to maintain cleanliness on streets and roads.
"There are workers, which we never saw in our lifetime doing their actually assigned work and get retirement from the residences of the government officials. We have already apprised the Chief Minister about the problem recently," Veer Bhan said.
There must be more than 100 such workers deployed in the government residences for the past long time, said the union presidents-Ravinder Cheema and Veer Bhan-tentatively.
As per the details provided by the corporation under the Right To Information Act (RTI), there are 1,322 sanctioned posts in the corporation and 1,154 are filled and 168 have been lying vacant for the past long time.
With the announcement of increasing the area under the municipal limits, more safai workers and other work force is required and to mitigate the cleanliness and other issues of the wards.
Commissioner Speaks: "Well, I am not aware of such a huge workforce deployed in the residences of senior administrative of other officers, but will surely check this out for better utilisation of this 'hidden' workforce", said Corporation Commissioner, Dalwinderjit Singh. On vacant posts, he added that a detailed project has been sent to the head office seeking to fill all such posts.