THE TRIBUNE MAGAZINES
On alternate Mondays

On Sundays
On Saturdays
IN PASSING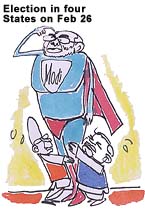 Superman. Help! Help!
by Sandeep Joshi
Chandigarh page: City schools closed till Jan 15


Soldiers posted on the border with Pakistan warm themselves in front of a fire near Amritsar on Saturday. — Reuters photo
TRIBUNE INVESTIGATION
Move to resume Cantt bungalows
George promises to look into matter
Ferozepore, January 11
Every time the situation becomes volatile along the border or the relations between the two hostile nations reach a flashpoint leaders across both sides of the fence engage in blistering rhetoric, the worst sufferers are residents of the border towns who due to fear of war hanging above their heads get dislodged from their homes.
NCM pleas go unheard
New Delhi, January 11
The entreaties of the National Commission for Minorities to put matters in perspective before the NRIs and PIOs about safeguarding the interests of minorities failed to evoke a positive response from the organisers of the Pravasi Bharatiya Divas.
Fatima disagrees with Naipaul
New Delhi, January 11
Refuting the views of Nobel laureate V.S. Naipaul on Mahatma Gandhi, African National Congress leader Fatima Meer today said the Father of the Nation was a "phenomenal success" in South Africa where he laid the basis of his political struggle against colonial governments.


SUNDAY ANCHOR
Long queues for 'magic cure'
Philai (Kapurthala), January 11
Virtually defying prevalent medical perceptions and throwing these to the winds, hundreds of people rush to this otherwise sleepy village on Sundays to get rid of their varied tooth ailments "for ever" with the help of a "holy treatment" offered by a large number of "blessed" residents for over 100 years.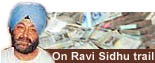 Norms for overseas investment eased
January 11, 2003
PIOs in 6 countries eligible for dual citizenship
January 10, 2003
All-party meeting backs Amarinder
January 9, 2003
Advani: deport overstaying Pakistanis, Bangladeshis
January 8, 2003
Centre against disbanding SOG
January 7, 2003
Centre clears dual citizenship
January 6, 2003
PM to control N-trigger
January 5, 2003
Bihar in flames
January 4, 2003
Cell operators slash STD charges
January 3, 2003
India, Pak exchange lists of N-installations
January 2, 2003