THE TRIBUNE MAGAZINES
On alternate Mondays

On Sundays
On Saturdays
IN PASSING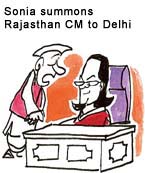 Who is your today's target, Madam?

by Sandeep Joshi
22 join Mufti ministry

Jammu, January 14
Amidst protests by those left out, the Chief Minister, Mufti Sayeed, today expanded his over two-month-old PDP-Congress coalition ministry by inducting 22 new ministers. The Governor, Mr G.C. Saxena, administered the oath of office to the new ministers.

In video (28k, 56k)


Cabinet to call the shots, not bureaucrats
J&K page

Aid for illegal Sikh migrants
New Delhi, January 14
To mitigate the hardship faced by illegal Sikh migrants, the Vajpayee government has directed Indian missions abroad to issue travel documents after satisfying themselves that the applicants are Indian nationals.
10 cr for Maya's birthday bash
Lucknow, January 14


The Uttar Pradesh Chief Minister Mayawati's birthday on January 15 has become an official event for which regular meetings are being held to fix responsibility of different government departments to ensure that nothing should be left undone to escape wrath of "behanji".
Spice, Airtel bar calls to Connect
Chandigarh, January 14
The ongoing war between the cellphone operators on one hand and the Telephone Regulatory Authority of India and WiLL-based mobile services on other has claimed its first victim in Punjab.
Business page: Cellular-WLL row deepens


High-tech facilities proposed
Heritage status for Golden Temple
Amritsar, January 14
The dossier being sent for declaring the Golden Temple as a world heritage site has suggested major changes with a view to synchronise them with the standards set by UNESCO.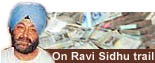 Punjab moves SC on SYL
January 14, 2003
BSF thwarts ISI's bid to dig tunnel
January 13, 2003
HP elections on Feb 26
January 12, 2003
Norms for overseas investment eased
January 11, 2003
PIOs in 6 countries eligible for dual citizenship
January 10, 2003
All-party meeting backs Amarinder
January 9, 2003
Advani: deport overstaying Pakistanis, Bangladeshis
January 8, 2003
Centre against disbanding SOG
January 7, 2003
Centre clears dual citizenship
January 6, 2003
PM to control N-trigger
January 5, 2003