THE TRIBUNE MAGAZINES
On alternate Mondays

On Sundays
On Saturdays
IN PASSING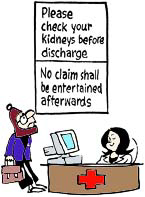 by Sandeep Joshi
Haryana sops to trade, industry
Chandigarh, January 16
The Haryana Cabinet today gave a series of concessions to the trade and industry by reducing various taxes. However, diesel, one of the major inputs in the agriculture sector, will cost more.
Sikh clergy clears Nanakshahi calendar
Amritsar, January 16
The Sikh clergy today approved 'Nanakshahi" calendar, prepared by Canada-based Sikh scholar, Pal Singh Purewal. However, birth and death anniversaries of the Gurus and other Sikh festivals would be observed in accordance with 'Nanakshahi calendar' while other common festivals of Hindus and Sikhs would continue to be celebrated as per old calendar till a final decision.
SGPC member Puran Singh Josh dead


Amritsar, January 16
Veteran SGPC member Puran Singh Josh (72), who was seriously injured in a car accident last year, died at Ajit Hospital here today. Josh was an SGPC member for more than 20 years. He was considered a crusader against corruption in Sikh shrines and was a bachelor.


The man who fights termites
Chandigarh, January 16
Not for nothing is he known as the "termite man" of Punjab. Mr Garib Das (56) dreams termites, talks termites and stalks termites. And he has devoted his life to fighting termites and other insects, pests and weeds like congress grass that attack trees and houses, causing extensive damage and huge losses all over the region.

Mr Garib Das inspects a tree for termites in Chandigarh on Thursday.
— A Tribune photo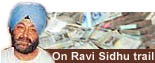 Cabinet Secy convenes meeting on SYL
January 16, 2003
Chautala, MPs meet PM on SYL
January 15, 2003
Punjab moves SC on SYL
January 14, 2003
BSF thwarts ISI's bid to dig tunnel
January 13, 2003
HP elections on Feb 26
January 12, 2003
Norms for overseas investment eased
January 11, 2003
PIOs in 6 countries eligible for dual citizenship
January 10, 2003
All-party meeting backs Amarinder
January 9, 2003
Advani: deport overstaying Pakistanis, Bangladeshis
January 8, 2003
Centre against disbanding SOG
January 7, 2003
Centre clears dual citizenship
January 6, 2003