HOROSCOPE
THE TRIBUNE MAGAZINES
On alternate Mondays

On Sundays
On Saturdays
IN PASSING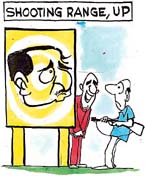 Behanji's order: for target practice, use Mulayam's eye not bull's eye.

by Sandeep Joshi
DSGMC leaders meet Pervez
Amritsar, April 15
A deputation of the Delhi Sikh Gurdwara Management Committee led by Mr Harwinder Singh Sarna, general secretary of the committee, met General Pervez Musharraf Pakistan President at Pearl Continental, a five star hotel, in Lahore today.

Cops beat up octogenarian couple
Two suspended, investigation starts
Ropar, April 15
Violating Supreme Court guidelines on the detention of persons, the Nangal police at 3 am today raided and beat up Raja Ram (82) and his wife Parkasho Devi (80) of Bass village near Nangal.

Woman constable paraded naked
Srinagar, April 15
A woman constable was paraded naked in this city by her colleagues after she was allegedly caught in the company of four paramours in an abandoned house here.

Row over law panel chief's appointment
Chandigarh, April 15
Justice A.S. Garg who cited "personal reasons" to quit as the one-man enquiry commission against the previous SAD-BJP Government on May 14 last year, has stirred yet another controversy, this time over his appointment as Chairman of the Punjab State Law Commission.

Truckers invited for talks
New Delhi, April 15
Prices of fruits and vegetables soared in some states like Maharashtra, Andhra Pradesh, Tamil Nadu and Karnataka on the second day of the nationwide indefinite strike by truckers, demanding stable fuel prices and fewer levies.
In video (28k, 56k)
Editorial: No truck with truckers?
56TH HIMACHAL DAY
Virbhadra promises higher daily wages
Dharamsala, April, 15
Presiding over the 56th Himachal Day celebrations today, the Chief Minister, Mr Virbhadra Singh, announced that as promised before the elections, the daily wages would be enhanced to Rs 75 and all daily wage earners having completed seven years would be regularised.


Chief Minister Virbhadra Singh inspects the parade on the occasion of Himachal Day at Dharamsala on Tuesday.
In Health Tribune today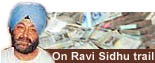 Tikrit falls to allies
April 15, 2003
Fierce fighting near Tikrit
April 14, 2003
Northern Iraq falls to coalition forces
April 13, 2003
CBI unearths major IT refund scam
April 12, 2003
Allies meet fresh resistance
April 11, 2003
Looting erupts in Baghdad
April 10, 2003
Allies hound Saddam with bunker-buster bombs
April 9, 2003
US forces seize Saddam's palace
April 8, 2003
US plane lands at Baghdad airport
April 7, 2003

US tanks roll into Baghdad
April 6, 2003