THE TRIBUNE MAGAZINES
On alternate Mondays

On Sundays
On Saturdays
IN PASSING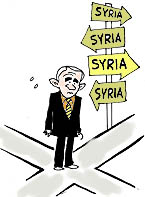 by Sandeep Joshi
Editorial: Naked aggression




Octogenarian couple Raja Ram and Parkasho Devi who were thrashed by cops.
— Photo Sushil Sharma
Mukul Joshi back as Industries Secretary
Chandigarh, April 16
Mr Mukul Joshi today joined as Principal Secretary, Industries and Commerce. He was involved in an unsavoury controversy involving him and the wife of the Punjab Chief Secretary in January.
Togadia charged with sedition
Judicial remand extended till April 30
Ajmer, April 16
Vishwa Hindu Parishad (VHP) General Secretary Pravin Togadia's bail application was today rejected by a city court, which charged him with waging a war against the state and extended his judicial remand till April 30.
Govt invites truckers for talks today
New Delhi, April 16
As the countrywide truckers' strike entered the third day today and the prices of essential commodities moved upwards, the government has invited the agitating truckers tomorrow for initiating a dialogue, seeking an early resolution to the problem.


In video: The indefinite nationwide truckers' strike begins to show its effect as prices of essential commodities shoot up. (28k, 56k)

It'll be PM's docs vs Kashmiri chefs
Srinagar, April 16
Chefs specialising in Kashmiri cuisine are looking forward to luring the gourmand in Prime Minister Atal Behari Vajpayee away from the dietary advice of his doctors during his visit to Jammu and Kashmir. Given the PM's known weakness for sizzling mutton kebabs and succulent tikkas, chefs and officials here are hoping he bids a temporary goodbye to all dietary advice meant to keep his weight under check.


PM's valley visit: 30 detained


In Science Tribune today
16,000 Iraqi soldiers surrender
April 16, 2003
Tikrit falls to allies
April 15, 2003
Fierce fighting near Tikrit
April 14, 2003
Northern Iraq falls to coalition forces
April 13, 2003
CBI unearths major IT refund scam
April 12, 2003
Allies meet fresh resistance
April 11, 2003
Looting erupts in Baghdad
April 10, 2003
Allies hound Saddam with bunker-buster bombs
April 9, 2003
US forces seize Saddam's palace
April 8, 2003
US plane lands at Baghdad airport
April 7, 2003

US tanks roll into Baghdad
April 6, 2003