THE TRIBUNE MAGAZINES
On alternate Mondays

On Sundays
On Saturdays
IN PASSING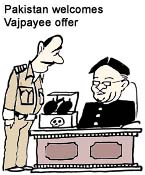 Instead of bombs, shall we send mangoes across the border, Sir?

by Sandeep Joshi
Haryana page: President's date SC women

Young girls give a traditional welcome to the President, Dr APJ Abdul Kalam, at a function at Bhudak Kalan in Yamunanagar on Saturday. — Tribune photo Karam Singh
Marines start leaving Baghdad
Baghdad, April 19
US Marines who seized much of Baghdad earlier this month started pulling out of the Iraqi capital today, handing over control to US army units as the military's mission moves from combat to policing.
Saddam's Finance Minister arrested

UN support to lift sanctions on Iraq needed
Paper leak nexus unveiled
Police nabs conman from Amritsar hotel
Amritsar, April 19
In a major breakthrough, the local police today arrested an Akali leader and rice miller of Sirhind, Devinder Singh alias Pappu, who allegedly enjoys close links with CBSE officials, while dealing with aspirant candidates for the PMT entrance test, scheduled for April 27 from the premises of Hotel Royal Castle, here today.
Builder Channi booked


Jalandhar, April 19
The Punjab Vigilance Bureau has booked two builders said to be close to a Punjab Minister and three Municipal Corporation officials for alleged evasion of composition fee in respect of alleged illegal buildings in the city.
5 more arrested in Pandya murder case


TRIBUNE FOLLOW-UP
Mauled Nirmala battles for life
She risked her life to save 13-year-old boy
Shimla, April 19
Nirmala Devi, who killed a leopard with a sickle after a bloody fight at Pipli village in Mandi yesterday, is battling for life with multiple grave injuries at the Indira Gandhi Medical College Hospital here.
In Her World today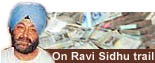 PM offers friendship to Pakistan
April 19, 2003
Talks with truckers fail
April 18, 2003
USA blocks Iraq-Syria pipeline
April 17, 2003
16,000 Iraqi soldiers surrender
April 16, 2003
Tikrit falls to allies
April 15, 2003
Fierce fighting near Tikrit
April 14, 2003
Northern Iraq falls to coalition forces
April 13, 2003
CBI unearths major IT refund scam
April 12, 2003
Allies meet fresh resistance
April 11, 2003
Looting erupts in Baghdad
April 10, 2003