IN FOCUS
In our series, State of Universities, Assistant Editor Nirmal Sandhu examines the functioning of Guru Nanak Dev University, Amritsar, on Edit page.

In Sports Tribune today
HOROSCOPE
THE TRIBUNE MAGAZINES
On alternate Mondays

On Sundays
On Saturdays
IN PASSING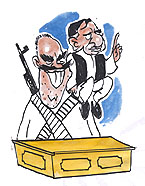 Now POTA stands for Protection Of The Allies.

by Sandeep Joshi
In video: Mulayam Singh Yadav swears in as the new Chief Minister of Uttar Pradesh. (28k, 56k)

POTA should not be misused, says BJP
New Delhi, August 29
The BJP today diplomatically defended Samajwadi Party leader Mulayam Singh Yadav's first decision after taking oath as the Chief Minister of UP — release of Raghuraj Pratap Singh, alias Raja Bhaiya, and others detained under POTA.
82 killed in car bomb blast in Iraqi holy city
Najaf, August 29
Leading Shiite politician Ayatollah Mohammad Baqer al-Hakim, a pivotal force in post-war Iraq, was assassinated today in a car bomb blast that killed at least 82 persons and wounded around 200 in the holy city of Najaf.
Punjab withdraws sales tax on CSD items
Patiala, August 29
The state government has decided to withdraw the sales tax on CSD items with immediate effect. The decision was taken at a high-level meeting presided over by the state Chief Minister, Capt Amarinder Singh, here today. Besides this, various issues relating to the welfare of the serving Army personnel were also discussed.
5 held for Akshardham attack
Ahmedabad, August 29
In a major breakthrough, the police today arrested five persons hailing from sensitive Dariapur and Shahpur areas in connection with Akshardham temple attack. The police said their interrogation revealed that terrorist outfits Jaish-e-Mohammed (JeM) and Lashkar-e-Toiba (LeT) had masterminded the strike.


New Delhi, August 29
It was a moment of recognition and triumph for 33 sportspersons who received the Rajiv Gandhi Khel Ratna, Dronacharya, Arjuna and Dhyan Chand awards from President A.P.J. Abdul Kalam.

The President, Dr A.P.J. Abdul Kalam, presents the Arjuna Award to Indian hockey player Gagan Ajit Singh at a function at Rashtrapati Bhavan in New Delhi on Friday. — PTI photo

Sports page
1948 hockey team may be felicitated

Article 356 to be used only with safeguards
August 29, 2003
39 killed in Nashik stampede
August 28, 2003
Mayawati resigns, Mulayam stakes claim
August 27, 2003
Mumbai panics as twin blasts kill 46
August 26, 2003
Mufti for opening of border posts
August 25, 2003
Centre clears new pension scheme
August 24, 2003
Sushma Swaraj clears the air
August 23, 2003
Sushma Swaraj gives clean chit to colas
August 22, 2003
Police clashes with Khanna supporters
August 21, 2003
No-trust motion defeated
August 20, 2003