THE TRIBUNE MAGAZINES
On alternate Mondays

On Sundays

On Saturdays

IN PASSING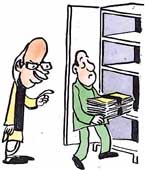 Don't dump these files labelled 'Hindutva'. You never know when we'll need them again.

by Sandeep Joshi
(Click to enlarge)
Showdown formally begins in UP, Maharashtra
Poll notification for third phase issued
New Delhi, March 31
The stage is set for the third phase of Lok Sabha elections spread over Uttar Pradesh and remaining constituencies in Maharashtra and Bihar and eight other states and the culminating stage of hustings to the Assemblies of Andhra Pradesh, Karnataka and Orissa on April 26 as the statutory notifications were promulgated today.


Govt moves SC on surrogate ads

Pranab to contest for first time

Move forward on Kashmir, warns Musharraf
Islamabad, March 31
President Pervez Musharraf has warned that the progress of the ongoing dialogue between India and Pakistan will be hampered if the Kashmir issue is not addressed satisfactorily.


Centre to announce ceasefire in J&K
Lakshmi returns her crown
Mumbai, March 31


Femina Miss India-World 2004 Lakshmi Pandit today returned her crown in the wake of the controversy over her marital status, Assistant Editor of Femina Madhvi Purohit said.


In video (28k, 56k)


School principal among 8 held in paper leak case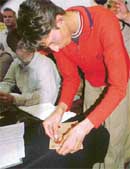 Ludhiana, March 31
The Punjab Police achieved a major breakthrough in the Punjab School Education Board paper leakage case today with the arrest of eight persons, including a government school principal and a student.
Makhan, a plus two student of Government Senior Secondary School, Mangat village, shows how he broke the seal of a bundle of question papers during a press conference in Ludhiana on Wednesday. — Photo by Pardeep Tewari

BJP releases Atal-centric Vision Document
March 3

1

, 2004
Congrats Sehwag, you've done it
March 30, 2004
Sehwag puts Pak attack to sword
March 29, 2004
Stop unfair TV ads, EC tells Ministry
March 28, 2004
PM offers to resolve Kashmir through talks
March 27, 2004
Rudy in soup as EC seeks information on air passes
March 26, 2004
India clinch series in Pak
March 25, 2004
US may give non-NATO ally status to India
March 24, 2004
Telgi scam quantum put at Rs 33,000 crore
March 2

3

, 2004
Dravid, Kaif conquer Lahore
March 22, 2004
India objects to US making Pak 'major ally'
March 2

1

, 2004
SC recalls orders on IIM fee cut
March 20, 2004