In Career Guide today
THE TRIBUNE MAGAZINES
On alternate Mondays

On Sundays

On Saturdays

IN PASSING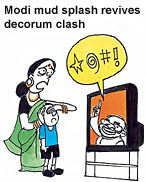 You are not old enough to view the campaign news. Go to your room.
by Sandeep Joshi
(Click to enlarge)
Punjab fails to get interim stay in liquor vends case
New Delhi, April 2
The Punjab Government today failed to get interim stay from the Supreme Court on the Punjab and Haryana High Court's order quashing auction of liquor vends in three districts but got a partial relief as it was allowed to run the vends itself for the time being.


New Delhi, April 2
Two deep-penetration Jaguar fighter aircraft of the Indian Air Force today went missing in bad weather over the Sonmarg valley during a training sortie near the LoC in Jammu and Kashmir.

File photo of a Jaguar in flight
Mansingh warns Pak against harping on Kashmir
Washington, April 2
Warning Pakistan against holding the entire bilateral Indo-Pak agenda hostage to a single issue of Kashmir, Indian Ambassador to the USA Lalit Mansingh has said this approach will defeat the purpose of the current peace initiative.
Khan's nuclear network used military aircraft
Ashish Kumar Sen writes from Washington
Abdul Qadeer Khan's nuclear proliferation network, while using Pakistan military aircraft to ferry supplies, worked without the "approval" of the government in Islamabad, a senior State Department official told members of a U.S. congressional committee on Tuesday.
38 killed as bus falls into gorge
Jammu, April 2
In the second major bus accident in less then a week, 38 persons were killed and 36 injured when an overloaded bus skidded off the road and fell in a deep gorge while negotiating a curve in the Mandi area of Jammu and Kashmir's Poonch district this evening, the police said.


Kalam addresses troops at Siachen
Siachen Base Camp, April 2


Making the first-ever Presidential visit to the world's highest battlefield, A.P.J. Abdul Kalam today said the 75 km long Siachen glacier was of "extreme geo-strategic importance" to India and told the troops "there is a comprehensive security plan while having a diplomatic approach to peace".
India vs Pakistan

2004
The son sets in Tohra village


April

2

, 2004
SGPC chief Tohra passes away


April

1

, 2004
BJP releases Atal-centric Vision Document
March 3

1

, 2004
Congrats Sehwag, you've done it
March 30, 2004
Sehwag puts Pak attack to sword
March 29, 2004
Stop unfair TV ads, EC tells Ministry
March 28, 2004
PM offers to resolve Kashmir through talks
March 27, 2004
Rudy in soup as EC seeks information on air passes
March 26, 2004
India clinch series in Pak
March 25, 2004
US may give non-NATO ally status to India
March 24, 2004