PUNJAB
HARYANA
JAMMU & KASHMIR
HIMACHAL
REGIONAL BRIEFS
NATION
OPINIONS
MAILBAG
BUSINESS
SPORTS
WORLD

Monday, April 19, 2004, Chandigarh, India
Updated at 3:00 am (IST)

Kalam asks countrymen to vote 'positively'


New Delhi, April 18
President A. P. J. Abdul Kalam today called on all Indians to cast their vote "positively" in the Lok Sabha poll to elect members "who will be guiding the destiny of the nation for the next five years."
Campaigning for first phase ends
New Delhi, April 18
The cacophony of rallies and election meetings came to an end in 140 Lok Sabha constituencies spread across 16 states which go to the polls in the first phase on April 20.
CAST YOUR VOTE
Should special checks be done to ensure air safety during the polls?
AGRICULTURE
EDUCATION
HEALTH
SCIENCE & TECHNOLOGY
CAREER GUIDE
SPORTS
HER WORLD
TRIBUNE CLASSIFIEDS
BRIDES WANTED
GROOMS WANTED
OTHERS
HOW TO PLACE ADVTS
Tandon quits PM's poll panel
Lucknow, April 18
Buckling under a continuous attack, senior BJP leader Lalji Tandon today said he was stepping down from the post of convener of Prime Minister Atal Bihari Vajpayee's election campaign committee.
Editorial: Sari largesse
Remission for convicts
Amarinder violates poll code
Sarai Naga (Muktsar), April 18
In violation of the model code of conduct, the Punjab Chief Minister, Capt Amarinder Singh, today announced that state government would give one year remission in sentence to each convict on the occasion of the 500th birth anniversary of Guru Angad Dev.

Announcement leaves Akalis sulking
Khadoor Sahib, April 18
Solemnity and sanctity of the 500th birth anniversary celebrations of Guru Angad Dev notwithstanding, senior Akali and Congress leaders showed no restraint in delivering covert political messages to the massive and disciplined audience which had assembled in this holy city to pay homage to the second Sikh Guru.
HIMACHAL: Cong will win all seats, says Sukh Ram

NATIONAL CAPITAL REGION: BJP & Cong chanting the same mantra

CHANDIGARH: Yuvi returns home

LUDHIANA: Bank staff protest against privatisation

EDIT: Sari largesse

BUSINESS: Levi Strauss targets 25 per cent growth
India vs Pakistan

2004
THE TRIBUNE MAGAZINES
On alternate Mondays

On Sundays

On Saturdays

CM, Sukhbir Badal receive nagar kirtan
(Punjab page)
Devotees throng the historic Khadoor Sahib gurdwara at the special congregation held to mark the 500th birth anniversary celebrations of Guru Angad Dev in Khadoor Sahib in Amritsar district on Sunday.


—

Tribune photo

by

Karam Singh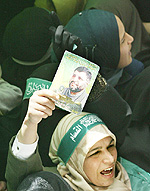 Israel eliminates senior Hamas leader
Gaza, April 18
Israel assassinated top Hamas leader Abdel Aziz al-Rantissi in a missile strike last night, dealing another major blow to the militant group before a planned US-backed withdrawal from the Gaza Strip.

A Palestinian woman holds a picture of Hamas leader Abdel Aziz al-Rantissi, during his funeral in Gaza on Sunday.
— Reuters photo


World page: Assassination of Hamas leader condemned
Coordinator in PMT paper leak case held
New Delhi, April 18
The Delhi Police Crime Branch today said it had arrested one Bunny Singh Gautam, a key accused in the CBSE Pre-Medical Test paper leak case, from the Janak Puri area of West Delhi.
Case filed against Dharmendra
Indore, April 18


A case has been filed in a local court along with a complaint to the Election Commission alleging that Bollywood actor and BJP Lok Sabha candidate from Bikaner in Rajasthan, Dharmendra, had violated the Hindu Marriage Act and Islamic Shariyat by hiding information about the "change in name and religion" for his marriage with Hema Malini in his nomination papers.
Jethmalani: I will contest from Lucknow
April 18, 2004
EC: file case against Tandon
April 17, 2004
India set to clinch series
April 1

6

, 2004
1 dead, 25 hurt in Doda attack
April 1

5

, 2004
Stampede snowballs into poll issue
April 14, 2004
21 die in PM's constituency
April 13, 2004
EC rejects BJP's plea on campaigning deadline
April 12, 2004
Clashes erupt in Baghdad
April

11

, 2004
Opinion poll ban will violate law
April

10

, 2004
9 die in blast at PDP rally
April

9

, 2004