PUNJAB
HARYANA
JAMMU & KASHMIR
HIMACHAL
REGIONAL BRIEFS
NATION
OPINIONS
MAILBAG
BUSINESS
SPORTS
WORLD

Sunday, May 2, 2004, Chandigarh, India
Updated at 3:00 am (IST)

CJI seeks powers to deal with 'errant' judges
New Delhi, May 1


Exasperated over helplessness in dealing with corrupt and indisciplined judges of the higher judiciary, Chief Justice of India V.N. Khare today said the Constitution should be amended to confer more powers on the CJI or a collegium headed by him to deal with "errant" judges.
CAST YOUR VOTE
Should prisoners be allowed to contest elections?

AGRICULTURE
EDUCATION
HEALTH
SCIENCE & TECHNOLOGY
CAREER GUIDE
SPORTS
HER WORLD
TRIBUNE CLASSIFIEDS
BRIDES WANTED
GROOMS WANTED
OTHERS
HOW TO PLACE ADVTS
EC decision on Patna High Court order soon
New Delhi, May 1
The Election Commission said today that it was studying the Patna High Court directive to debar those behind bars from contesting the poll and it would soon take a decision on the issue.


Atrocities on Iraqi POWs anger Arabs
IMAGES of atrocities allegedly committed by US soldiers against Iraqi prisoners of war dominated the media on Friday. The graphic pictures inflamed the Arab world and forced the Bush administration to scramble to contain the fallout of what is, undoubtedly, a public relations nightmare for Washington. (Details on world page)


World page: TV shows US war dead in Iraq
3 SPs, 8 DSPs, SMO ordered to be shifted in Punjab
Chandigarh, May 1
Three Superintendents of Police and eight Deputy Superintendents of Police, some of whom were named in the infamous change of home district case, have been ordered to be shifted from their present field postings.
In Health Tribune today
In Her World today
THE TRIBUNE MAGAZINES
On alternate Mondays

On Sundays

On Saturdays

IN PASSING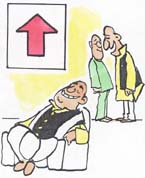 It was a smart move on your part to hang the exit-poll results upside down.

by Sandeep Joshi
(Click to enlarge)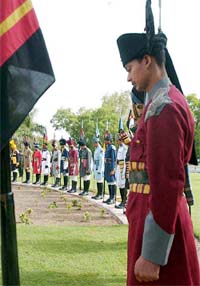 A wreath-laying ceremony organised by the Army on the eve of the Armoured Corps Day in New Delhi on Saturday. — PTI
May Day rallies focus on poverty, Iraq
Moscow, May 1
Thousands marched in cities around the world today to mark International Labour Day protesting against poverty and the war in Iraq as well as calling for improved workplace safety.

Punjab page:

May Day: tributes paid to Chicago martyrs
Pak heads UN Security Council
Islamabad, May 1
Pakistan today took over as the president of the United Nations Security Council amid deepening crisis in Iraq. This will be the second time when Pakistan assumes the presidency during its two-year term in the Security Council before its term expires at the end of this year.
2 more NRIs in House of Lords
London, May 1
Two leading NRIs, Daljit Rana and Prof Sir Kumar Bhattacharya, have been made peers in the House of Lords by Prime Minister Tony Blair. Mr Diljit Rana, founder of Andras House, a leading property development and hospitality company in Belfast, Northern Ireland, was last month appointed the first Honorary Indian Consul in Northern Ireland.
Dalhousie has snow, Shimla rain
Shimla, May 1
The entire tribal Lahaul valley and other high mountain passes had intermittent snowfall for the fourth day today while famous tourist resort of Dalhousie in Chamba district experienced fresh snowfall last night, reviving the cold-wave conditions in the region.


Thousands of birds perish in storm
Mahendergarh, May 1
Thousands of birds perished and hundreds of trees uprooted in Mahendergarh subdivision during a storm and the accompanying rain during the intervening night of Thursday and Friday. According to local residents, large-scale damage had been caused to the flora and fauna of the area.
Prisoners can't contest elections
May

1

, 2004
EC team to probe Chapra violence
April

30

, 2004
Ultras attack NC rally in Doda
April 29, 2004
Exit polls send sensex nosediving
April 28, 2004
Eight killed in poll violence
April 27, 2004
Grenade attack at Mehbooba's rally
April 26, 2004
Campaigning for second phase poll ends
April 2

5

, 2004
Ultras attack Cong HQ in Srinagar, 12 injured
April 2

4

, 2004
EC seeks explanation on Finance briefing
April 23, 2004
Suicide bombers kill 68 in Iraq
April 22, 2004