PUNJAB
HARYANA
JAMMU & KASHMIR
HIMACHAL
REGIONAL BRIEFS
NATION
OPINIONS
MAILBAG
BUSINESS
SPORTS
WORLD
Saturday, May 8, 2004, Chandigarh, India
Updated at 3:00 am (IST)

Gujarat action in bakery case misconceived, says SC
New Delhi, May 7
The Supreme Court today dismissed Gujarat Government's plea for modification of its judgement regarding the transfer of Best Bakery case for retrial in Maharashtra with severe strictures against it, saying the government application in this regard is "thoroughly misconceived."
CAST YOUR VOTE
Has the IHF been high-handed with Dhanraj Pillay and Baljit Singh Dhillon?
AGRICULTURE
EDUCATION
HEALTH
SCIENCE & TECHNOLOGY
CAREER GUIDE
SPORTS
HER WORLD
TRIBUNE CLASSIFIEDS
BRIDES WANTED
GROOMS WANTED
OTHERS
HOW TO PLACE ADVTS
Jaguar crashes in Ambala City
Pilot bails out; no casualties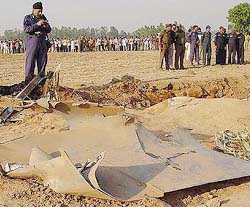 Ambala, May 7
A Jaguar fighter aircraft of the Indian Air Force crashed in Ambala City this evening. There were no casualties.
Air Force officers inspect the wreckage of the Jaguar which crashed in Ambala on Thursday. — Photo by Neeraj Chopra
EC decision on Chapra today
New Delhi, May 7
While the Election Commission today decided to send two separate teams of two members each to Siwan and Bettiah in Bihar to probe allegations of rigging, indications are that the poll panel could take some decision on the demand of countermanding the polls in Chapra parliamentary constituency tomorrow.
Emigration of ex-servicemen to Iraq suspended
New Delhi, May 7
The government has suspended grant of emigration clearance to ex-servicemen for deployment as security guard and other security-related duties in Iraq, Jordan, Kuwait and the United Arab Emirates, official sources said today.
HIMACHAL: CM's letter exposes chinks in Cong unity

NATIONAL CAPITAL REGION: Errant units: SC turns the heat

CHANDIGARH: 2 PEC ex-students among Civil Services toppers

OPINIONS: Sikkim sensibility

BUSINESS: Plan panel bullish on 8 pc GDP growth
In Education Tribune today
In Career Guide today
THE TRIBUNE MAGAZINES
On Sundays

On Saturdays

15 killed in Karachi blast
Islamabad, May 7
A man with explosives strapped around his body and standing in the front row during Friday prayers in a mosque blew himself up, killing at least 15 Shia worshippers, including the Imam, and injuring about 200 this afternoon in Pakistan's port city of Karachi.
Cong leader shot dead in Doda
Jammu, May 7
In a poll-related violence, terrorists shot dead a Congress leader, Mohammad Jameel, while he was campaigning in the Marwah block of Doda district today.
Congress, BJP leaders court allies
New Delhi, May 7
Now that the electoral battle has moved into the decisive phase and the result promises to be a close one, political parties are busy speculating about the possible post-poll scenarios and drawing up contingency plans.
Roopa Mishra tops civil services exams
New Delhi, May 7
Roopa Mishra, an MBA from Utkal University in Bhubaneshwar, has topped this year's Civil Services examination while Ashima Garg from Delhi University stood second out of 413 selected candidates, it was officially announced today.
Old quota for PG medical courses
Ads may land parties in trouble
Chandigarh, May 7
The print media blitzkrieg launched through catchy advertisements by the various surrogate organisations and political parties against their opponents is likely to land the parties and candidates in trouble. Sources said that expenditure observers appointed by the ECI to monitor the expenditure on the poll campaign by candidates have started an exercise to collect all information regarding these advertisements from various newspapers and electronic media.

Firms hiring ex-armymen for Iraq to be prosecuted
May

7

, 2004
4 die as school van hits train
May

6

, 2004
One killed, 37 injured in violence
May

5

, 2004
For stability Congress is the right choice: VP
May

4

, 2004
EC team begins probe in Chapra
May

3

, 2004
CJI seeks powers to deal with 'errant' judges
May

2

, 2004
Prisoners can't contest elections
May

1

, 2004
EC team to probe Chapra violence
April

30

, 2004
Ultras attack NC rally in Doda
April 29, 2004
Exit polls send sensex nosediving
April 28, 2004
Eight killed in poll violence
April 27, 2004