PUNJAB

HARYANA

JAMMU & KASHMIR

HIMACHAL

REGIONAL BRIEFS

NATION

OPINIONS

MAILBAG

BUSINESS

SPORTS

WORLD

Saturday, April 16, 2005, Chandigarh, India
Updated at 3:00 am (IST)
India, Pak must fight terror jointly: PM
Ready for talks with any group that shuns guns
New Delhi, April 15
Virtually setting the agenda for Pakistan President General Pervez Musharraf's visit here, Prime Minister Manmohan Singh today said that India and Pakistan can work together in protecting the lives of innocent people and in fighting the sources of terrorism in the region.

Prime Minister Manmohan Singh and Union Minister for Home Shivraj Patil during the inauguration of a conference of Chief Ministers at Vigyan Bhavan in New Delhi on Friday. — Tribune photo by Mukesh Aggarwal
CAST YOUR VOTE
Should India aggressively seek open skies policy?



FORUM

EDUCATION

JOBS & CAREERS

HEALTH & FITNESS

SCIENCE & TECHNOLOGY

SPORTS

SOCIETY

TRIBUNE CLASSIFIEDS

BRIDES WANTED

GROOMS WANTED

OTHERS

HOW TO PLACE ADVTS
Full coverage: India vs Pak

2005
Security gets cracking for Pervez visit
New Delhi, April 15
The security agencies today took control of vital installations, including the place of stay and venues for the high profile visit of Pakistan President Pervez Musharraf's three-day stay here.
India to press for peace along LoC
New Delhi, April 15
The UPA government is going to press for the ultimate Confidence Building Measure with Islamabad as Pakistan President Pervez Musharraf arrives here tomorrow evening for talks with the Indian leadership: an agreement on peace and tranquility along the Line of Control.
Too early to talk of J&K solution: Brajesh
New Delhi, April 15
Former National Security Adviser Brajesh Mishra firmly believes it is too early to expect a solution to the Kashmir problem and that the atmosphere today is "not yet conducive for compromises on both sides."



Pervez for pact on 'Kashmir status'
In Sports Tribune today
QUOTE OF THE DAY
It is always difficult to bowl to Afridi and when he gets going the way he did today, no one has any answers.You have to get him out early otherwise he can run away with the match.

— Rahul Dravid
THE TRIBUNE MAGAZINES
On Sundays

On Saturdays


Nation page: More than cricket on agenda


Musharraf to be gifted birth certificate


Special article: Kashmir bus diplomacy
Major gets 3 weeks to file petition in Siachen case
New Delhi, April 15
The Delhi High Court today allowed three weeks' time to Major Surinder Singh for filing a petition before the Army authorities against his conviction in the Siachen fake encounter case, in which he had been sentenced to three years' rigorous imprisonment by the General Court Martial.
SC declines PIL on Ravi waters
New Delhi, April 15
The Supreme Court today declined to entertain a petition on the issue of Ravi waters "dispute" between Jammu and Kashmir and Punjab. The Jammu and Kashmir Janata Morch for Democracy, in a public interest litigation, accused Punjab of not honouring the Ravi waters accord between the two states.
Sensex plunges after IT shock
Mumbai, April 15
Poor sentiment on the IT sector front caused the Bombay Stock Exchange sensitive index to plunge 220 points wiping off several lakh crores of rupees in market capitalisation.

Afridi gives Pak thumping win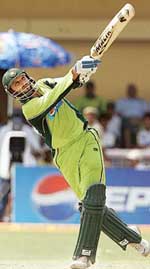 Kanpur, April 15
In the city of tanneries, a buccaneering Shahid Afridi (102) slaughtered the Indian pacers and skinned the spinners as Pakistan crushed the hosts by five wickets to win the penultimate tie of the six-match one-day series at the Green Park Stadium here today. With this win, in what is the 100th ODI between the cricketing arch-rivals, Pakistan go 3-2 up in the six-match series and will play the final one-dayer in Delhi on April 17 eyeing a series win while India will now strive to level it.



Details on Sports page
US vows stronger ties with India
April 15, 2005

PM ready to meet Hurriyat leaders
April 14, 2005

Wen for border as peace zone
April 13, 2005

Sikkim is part of India, says Wen
April 12, 2005

Wen for Indian software in Chinese hardware
April 11, 2005

Protocol on CBMs finalised
April 10, 2005

Foreign trade policy sets export target of $92 billion
April 9, 2005

Bus passengers bridge the divide
April 8, 2005

Ultras storm Srinagar Tourist Centre
April 7, 2005
Kaman Bridge all set for historic event
April 6, 2005