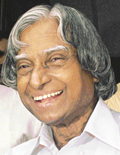 From the Presidentís kalam
APJ Abdul Kalamís latest book The Life Tree, a collection of poems, covers the journey of his life. The selection below gives us a peep into his inspiring world, marked by simplicity and love for nature, people and the country.
Song of Youth

Whispers of Jasmine

Memory
Waste to the rescue
Nilesh J. Gupte aims to provide low-cost, quakeproof and tsunami-resistant houses to people of the Andamans. Here, the architect gives a first-hand account of his project, which is being jointly undertaken with a US firm.
The thought of providing shelter to thousands of homeless in the tsunami-hit Andamans by making use of waste resources made me search the Net for information on the subject. I hit pay dirt with Biotecture, an architectural firm in Taos, New Mexico, USA, headed by architect Michael Reynolds.
Italian honour for Indian authors
Roopinder Singh
Rupa Bajwa, Siddharth Dhanvant Shanghvi and Anita Desai win the XXIV Grinzane Cavour awards
"It was only after coming to Italy that I learnt that the book had not only been selected by a jury, but it had also been voted upon by school and university students. I am grateful that a book set in Amritsar had connected with Italian readers. That really made me very happy," said Rupa Bajwa.

haute line
Backless is the rage
Om Gupta
Itís all the rage among the young, sexy and fashion-conscious. Thanks to Aishwarya Raiís daring black gown at the Cannes Film Festival, backless is well and truly back with a bare-dare look. The backless style statement has rekindled the debate as to how much exposure is sensuous and what is sensual.