ART & LITERATURE

'ART & SOUL
ENTERTAINMENT

TELEVISION

GARDEN LIFE

NATURE

FOOD TALK

CONSUMER RIGHTS

HOLLYWOOD HUES

BRIDGE

ULTA-PULTA
INTERACTIVE FEATURE

CAPTION CONTEST
EARLIER FEATURE

TRAVEL

RELATIONSHIPS

DREAM THEME

TIME OFF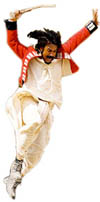 Expression of freedom
Be it Bhagat Singh as Shaheed or Mangal Pandey's The Rising, Hindi cinema has depicted patriotism in a myriad ways, sometimes subtle and subversive and at others overt and over the top. Nirupama Dutt looks at films which struck a nationalistic chord.
THE country's Independence celebrations come this time with the saga of Mangal Pandey told in a gala way on celluloid. Four years after the success of playing cricket in the name of freedom in Lagaan, Aamir Khan is back with the patriotic pill Bollywood style with The Rising:Ballad of Mangal Pandey. A hero of what to Indians remains the First War of Independence, while for the British it was the Mutiny of 1857. It has been resurrected with the punch line "discovering Independence.
I love my India
Patriotic songs continue to weave their magic and make the listeners emotional even decades after they are written. Surendra Miglani on how we love lyrics that celebrate nationalism
Ai mere pyare watan, ai mere bichhde chaman, tujh pe dil qurbaan; tu hi meri aarzoo, tu hi meri aabroo, tu hi meri jaan. This beautiful number, expressing the feelings of a person towards his motherland while living away from her has fascinated one since one's schooldays.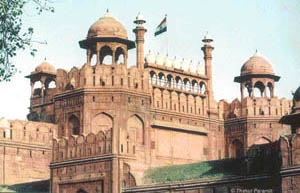 It held the fort for centuries
From the Mughals to free India, the Red Fort stands as a witness to the rise and fall of empires. Anuradha Thakur reports
THE Red Fort, which has been the epitome of power for the Mughals, the British and the free India, was built by Emperor Shah Jahan in 1639. Sustaining its position as the symbol of power through centuries, it was here that the national flag was hoisted for the first time after Independence.

The timeless spirit of art
Lalit Kala Akademi winds up a celebration of the past with the promise of a better future, says Saibal Chatterjee
AS the year-long golden jubilee celebrations of the Lalit Kala Akademi drew to a close in the first week of August, it was time for India's apex visual arts organisation to take stock of the past as well as chalk out the future, both immediate and long-term. It was time for Resonance.

'I'm not like Savita'
Shveta Pathak
FOR Apara Mehta, better known as Savita Virani, Tulsi's saas in Kyonki Saas Bhi Kabhi Bahu Thi, all roads lead to one destination, that is theatre. The dancer-turned-actress, who has been associated with theatre for the last over 24 years, has tasted success in theatre, television and even films.