ADVERTISEMENT

CHANDIGARH

LUDHIANA

JALANDHAR
New

DELHI

HIMACHAL PLUS
New

AMRITSAR PLUS

LIFESTYLE
New

BRIDES WANTED

GROOMS WANTED

OTHERS

HOW TO PLACE ADVTS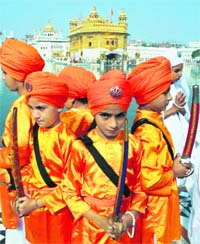 Children dressed as Panj Piaras in the Golden Temple parkarma during the nagar kirtan procession held on the eve of the birth anniversary of Guru Nanak Dev on Saturday. — Photo by Rajiv Sharma
15 crib deaths in Kolkata hospital
Kolkata, November 4
As many as 15 babies died during the past 24 hours at Kolkata's Dr B.C. Roy Child's Hospital allegedly due to septicaemia and other infectious diseases, which caused panic in the city.
PSEB staff manhandle farmer to death
Bathinda, November 4
A farmer of Jangirana village died after he was reportedly manhandled by some Punjab State Electricity Board employees while they were carrying out raids in the village today.
Navy ex-captain held for spying
New Delhi, November 4
Unravelling further links in the Navy war room leak case, the CBI has arrested a former Navy Captain for allegedly stealing highly classified documents. The CBI, after registering a case against Capt Salam Singh Rathore, arrested him from his house here late last night for alleged violation of the Officials Secrets Act.
HOROSCOPE

E - Revolution 2005:
A Two-day IT conclave

Assembly Elections - 2005

Turbans

Chandigarh is 50

EARLIER FEATURES

Haryana to launch Rs 700-crore tap water project
New Delhi, November 4
Haryana will launch "tap water in each home" project at an estimated cost of Rs 700 crore aimed at generating at least 20,000 direct and indirected jobs in the state. "In 41 years since the state's formation only seven lakh households have water tap connection in their premises.


DU honours Amitabh with doctorate
New Delhi, November 4
Delhi University today honoured Bollywood super star Amitabh Bachchan, Delhi Chief Minister, Ms Sheila Dikshit, cartoonist R K Laxman and prominent scientist Dr. C N R Rao with honorary degrees at a special convocation here.
AUR AB ASLI DON: Amitabh Bachchan signs autographs for staff members of Delhi University after an honorary doctorate was conferred on him by the university in New Delhi, on Saturday.
— Tribune photo by Mukesh Aggarwal (Details on Nation page)

In Society today
Manu seeks new Bench
November 4, 2006
Carry on sealing: SC
November 3, 2006
Give traders more time: Centre
November 2, 2006
Prices of 866 medicines slashed
November 1, 2006
Mattoo killer to be hanged
October 31, 2006
Talks on to defuse Bangladesh political crisis
October 30, 2006
First arrest under new law
October 29, 2006
Centre defers decision on wheat MSP
October 28, 2006
Terrorism most dangerous threat, says Manmohan
October 27, 2006

Indo-Pak back channel parleys gather steam
October 26, 2006