CHANDIGARH

LUDHIANA

JALANDHAR
New

DELHI

HIMACHAL PLUS
New

AMRITSAR PLUS

LIFESTYLE
New

BRIDES WANTED

GROOMS WANTED

OTHERS

HOW TO PLACE ADVTS
In Health & Fitness today
In Himachal Plus today

Fog bogs domestic private carriers
New Delhi, January 2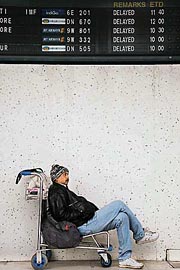 The fog in Delhi made headlines today and had a cascading effect all over the country. The scene was no different today with more flights delayed, diverted or cancelled angry passengers, hundreds of vehicles parked bumper-to-bumper on roads leading to the airport and utter chaos at terminals due to poor visibility.
A passenger rests under the message board at the domestic airport as flights are delayed due to fog in New Delhi on Tuesday. — AFP photo
PM briefs BJP leaders on foreign policy
New Delhi, January 2
Midway through the Congress-led UPA government's five-year term at the Centre, Prime Minister Manmohan Singh took the initiative in the New Year of inviting BJP leaders for consultations, primarily on foreign policy issues, in the wake of the major Opposition party's intense criticism pertaining to the Indo-US civilian nuclear deal.
Bengal to take action against Army personnel
Kolkata, January 2
The West Bengal Government today decided to take action according to the law against Army officers and personnel who allegedly ransacked a police station and assaulted policemen in the heart of the city.

Editorial: Beyond belief


India: The Tasks Ahead
SPECIAL SUPPLEMENT
125TH ANNIVERSARY CELEBRATIONS,
INAUGURAL SESSION


HOROSCOPE
In Jobs & Careers today
In Amritsar Plus today
In Jalandhar Plus today
FORUM
Forum provides our readers with an opportunity to express their views on some of the vital issues facing the country. The new question being posed is:
How can Indian hockey be saved?
The answers can be
e-mailed to:
forum@tribunemail.com
H.K. Dua
Editor-in-Chief

Cops to be shifted under EC directions
Chandigarh, January 2
Imposition of the model code of conduct has brought smiles to some and woes to others. The Punjab Government today issued separate instructions to stop cheques for grants from being encashed, limited the use of official cars of ministers and immediately stopped recently transferred teachers from joining at their new places of posting.


First century of tour
Cape Town, January 2
A Test match is a battle, with each day's play a skirmish by itself. Against such a canvass, India, with 254 for three on the board, fairly triumphed on the 1st day here.

(Details on Sports page)

Wasim Jaffer celebrates his century on the first day of the third Test against South Africa at Newlands in Cape Town on Tuesday. — AFP

No confrontation, says CJI designate
New Delhi, January 2
Chief Justice of India designate K G Balakrishnan today said that there was no "serious confrontation" between the Judiciary and the Legislature but said that let the issue be debated in public as as something better would emerge from it.


25-year-old alleges gangrape
Says she was made to compromise for Rs 30,000
Yamunanagar, January 2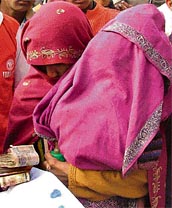 A 25-year-old woman and mother of a one-and-half- year-old boy today alleged that she was gangraped by three persons on New Year Eve and when she approached the police she was forced to reach a compromise with the accused, who included two property dealers, for Rs 30,000. Meanwhile, the police has refuted her allegations.
A woman (left) of Yamunanagar who alleged she was gangraped on December 31. — A Tribune photograph



E - Revolution 2005:
A Two-day IT conclave

Assembly Elections - 2005

Turbans

Chandigarh is 50

EARLIER FEATURES
Pitched battles in Nithari
January 2, 2006
Nithari on boil amid revenge cries
January 1, 2006
Saddam hanged
December 31, 2006
Saddam may hang any time
December 30, 2006
Buddha bends on Singur
December 29, 2006
NDA backs Mamata, seeks help of President
December 28, 2006
Saddam loses appeal
December 27, 2006
Lalu for Rahul; Nitish backs Atal
December 26, 2006
Defiant, Iran to enrich uranium
December 25, 2006
Manmohan Singh bytes, Mulayam bytes back
December 24, 2006
Protect witnesses: Bala
December 23, 2006
N-deal concerns remain: PM
December 22, 2006