CHANDIGARH

LUDHIANA

JALANDHAR
New

DELHI

HIMACHAL PLUS
New

AMRITSAR PLUS

LIFESTYLE
New

BRIDES WANTED

GROOMS WANTED

OTHERS

HOW TO PLACE ADVTS
Centre ready for CBI probe; no need, says UP Govt
Noida, January 4
Accusing the Mulayam Singh Yadav government of inaction that led to the murder of at least 17 children in Nithari village, the Centre today said it was ready for a CBI probe into the ghastly killings if the state government asked for it.


In video: UP govt doles out charity to buy peace. (56k)



Editorial: Ask CBI to probe
Noida killings figure in Cabinet meeting
New Delhi, January 4
The abuse and killing of at least 20 children in Nitharai Village in Noida, that shocked the nation, figured in the Union Cabinet meet presided over by Prime Minister Manmohan Singh here today.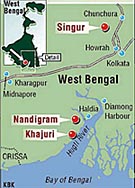 Another Singur brews at Nandigram
Kolkata, January 4
Indonesia's Salem group was promised by the Chief Minister, Mr Buddhadeb Bhattacharjee, to get some 40,000 acres in the Midnapore district for developing new infrastructure, setting up a new township, housing complexes, bridges and other multi-facility projects.


India: The Tasks Ahead
SPECIAL SUPPLEMENT
125TH ANNIVERSARY CELEBRATIONS,
INAUGURAL SESSION



| | |
| --- | --- |
| | |
| | HARYANA: Hooda urges PM to hike wheat MSP to Rs 850 |
| | HIMACHAL: Retention policy: deadline may be extended |
| | |
| | CHANDIGARH: CVM joins hands with BJP, SAD |
| | |
| | |
| | OPINIONS: Ask CBI to probe |
| | BUSINESS: Hindujas, too, join race to buy Hutch |
| | |
| | |
| | SPORTS: India gain upper hand |
In Science & Technology today
In Jalandhar Plus today

FORUM
Forum provides our readers with an opportunity to express their views on some of the vital issues facing the country. The new question being posed is:
How can Indian hockey be saved?
The answers can be
e-mailed to:
forum@tribunemail.com
H.K. Dua
Editor-in-Chief

12 die as bus falls into Chenab
Jammu, January 4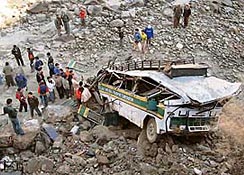 Twelve passengers of a state transport corporation bus were killed when it plunged into the Chenab in Doda district today.
The wreckage of the bus that fell into the Chenab on Thursday. — PTI photo

Farmers' stir simmers on rail tracks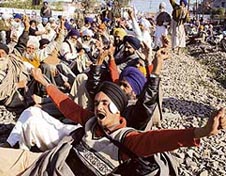 Chandigarh, January 4
On a call given by various farmer organi- sations, farmers today stopped trains at various places in the state.



Punjab page: Farmers booked for occupying DC's office

Farmers block trains on the Amritsar-Delhi route in protest against the anti-farmer policies of the state government in Amritsar on Thursday. — Photo by Rajiv Sharma

No move to shift Virk
Chandigarh, January 4
While a senior Punjab minister denied any move of Director-General of Police S.S. Virk being shifted as chief of the Central Reserve Police Force, some important Central police organisations are set to get their new heads later this month.
Cong to focus on achievements in Punjab poll
New Delhi, January 4
Faced with a tough contest in next month's Punjab elections, the Congress is keen to see it does not boil down to a direct fight between Akali Dal leader Prakash Singh Badal and Chief Minister Amarinder Singh.


Nationwide free testing for HIV patients
Chandigarh, January 4
There is welcome news for persons who have been tested HIV positive. The National AIDS Control Organisation has yielded to persistent pressure from HIV/AIDS NGOs and announced free testing (CD-4 count that determines the immunity level in an HIV positive person) for all patients.
HOROSCOPE

E - Revolution 2005:
A Two-day IT conclave

Assembly Elections - 2005

Turbans

Chandigarh is 50

EARLIER FEATURES
Noida killings: 2 SPs suspended, 6 cops fired
January 4, 2006

15 skeletons identified
January 3, 2006

Pitched battles in Nithari
January 2, 2006
Nithari on boil amid revenge cries
January 1, 2006
Saddam hanged
December 31, 2006
Saddam may hang any time
December 30, 2006
Buddha bends on Singur
December 29, 2006
NDA backs Mamata, seeks help of President
December 28, 2006
Saddam loses appeal
December 27, 2006
Lalu for Rahul; Nitish backs Atal
December 26, 2006
Defiant, Iran to enrich uranium
December 25, 2006