PUNJAB

HARYANA

JAMMU & KASHMIR

HIMACHAL

REGIONAL BRIEFS

NATION

OPINIONS

MAILBAG

BUSINESS

SPORTS

WORLD

ADVERTISEMENT
ADVERTISEMENT
ADVERTISEMENT
Wednesday, February 7, 2007, Chandigarh, India
Updated at 3:00 am (IST)

Punjab Votes '07
Terrorism may return: PM
Poor turnout at his rallies
Chandigarh, February 6
Cautioning people of Punjab against voting fascist and disruptive forces to power, the Prime Minister, Dr Manmohan Singh, said the Assembly elections were not an ordinary event as their outcome would determine the future of the country as well the border state.



Ludhiana page: PM's rally draws poor response
Beas: 3 gunmen of Dimpa arrested
Beas, February 6
In a major breakthrough, the special investigation team (SIT), headed by Mr Manminder Singh, SP (Headquarters), Amritsar, today arrested three official gunmen of Mr Jasbir Singh Dimpa, a Congress MLA, and a civilian in connection with the firing on Akali workers that left one dead on January 29 here.

CAST YOUR VOTE
Has Tata paid the right price for Corus?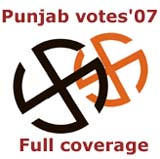 ADVERTISEMENT


CHANDIGARH

LUDHIANA

JALANDHAR
New

DELHI

HIMACHAL PLUS
New

AMRITSAR PLUS

LIFESTYLE
New

BRIDES WANTED

GROOMS WANTED

OTHERS

HOW TO PLACE ADVTS
In Health & Fitness today
In Himachal Plus today
Jobs & Careers
In Amritsar Plus today
IPI gas deal by June: Deora
New Delhi, February 6
An agreement on the pricing formula for gas to be delivered by the proposed $7 billion Iran-Pakistan-India (IPI) gas pipeline should be signed by June end, said Union Petroleum Minister Murli Deora.
Iran, Pak reach agreement
Dubai, February 6
The proposed trination IPI gas pipeline has received a boost with Pakistan and Iran reportedly reaching an agreement on pricing structure.


Suicide attack on Pak airport
Islamabad: A suicide bomber set off explosives in the car park of the airport of Pakistan's Capital, Islamabad, on Tuesday after being challenged by the police. Three persons were wounded, the police said. "It was a suicide bombing. Our men spotted him ... the bomber then fired at our men and blew himself up," an officer said. — Reuters
Protest marks Sanjay hearing
Mumbai, February 6
The special court set up under the Terrorism and Disruptive Activities Act to hear the 1993 Mumbai serial bomb blasts case today extended the bail of actor Sanjay Dutt till Wednesday.



In Masol village, barely 10 km from Chandigarh, there is no water supply, no electricity, no sanitation, no link road, nothing that would inspire people to vote. The picture shows water being ferried in. — Tribune photo by Pradeep Tiwari (Details on Punjab page)


India: The Tasks Ahead
SPECIAL SUPPLEMENT
125TH ANNIVERSARY CELEBRATIONS,
INAUGURAL SESSION





E - Revolution 2005:
A Two-day IT conclave

Assembly Elections - 2005

Turbans

Chandigarh is 50

EARLIER FEATURES
In Jalandhar Plus today
Kashmir again
Cop indicted for sexual abuse
Srinagar, February 6
Already facing criticism heat over fake encounters, the image of Jammu and Kashmir Police today took further beating when an internal inquiry report indicted one of its officials for allegedly indulging in sexual abuse of women constables and corruption.

Too eager to impress IAF, firms hold flying sessions
Bangalore, February 6
The Aero-India show is starting tomorrow but it seems the major players in the race for the 126 fighter aircraft Indian Air Force (IAF) order can't wait to get started. The major players took to the air today itself with a few flying IAF officials to get the head start in the race for the Rs 45,000 crore order.



Nation page: Proposals for aircraft JV not ready yet
Expect max pay hike this year
Singapore, February 6
Asian workers are expected to enjoy the highest pay hikes in the world in 2007, thanks to robust economic growth, talent shortage and lower inflation, a survey showed on Tuesday.
HOROSCOPE
Karnataka cries foul; bandh called
February 6, 2007

Trouble again in Tataland
February 5, 2007

2 police officers arrested
February 4, 2007

Sena-BJP back, jolt for Cong
February 3, 2007

Ordinance route for live action
February 2, 2007

Chorus in Tataland
February 1, 2007

Dimpa led attack, Rajan fired AK-47: SAD
January 31, 2007
Akali, Congress workers clash
January 30, 2007
Fresh clashes in Singur
January 29, 2007
No pension funds for stocks, says EPF board
January 28, 2007