PUNJAB

HARYANA

JAMMU & KASHMIR

HIMACHAL

REGIONAL BRIEFS

NATION

OPINIONS

MAILBAG

BUSINESS

SPORTS

WORLD

ADVERTISEMENT
Saturday, April 21, 2007, Chandigarh, India
Updated at 3:00 am (IST)


Admissions stayed


Govt calls off IIM meeting
New Delhi, April 20
Even as the UPA government gave a fresh directive to the IIMs to keep their admission process in abeyance for the next three days till the Supreme Court hears the Quota case on Monday, the directors of the management institutes scheduled to meet in the capital today cancelled their meeting.

6 Punjabis held for passport fraud in UK
London, April 20
Six people of Indian origin who began their ill-fated journey from India to Canada via Britain have started year-long jail sentences here for possessing forged UK passports and face deportation home.

Haryana police targets Maoists
Chandigarh, April 20
The Haryana Police has launched a manhunt for Maoists active in certain parts of the state. According to informed sources, instructions were sent from the police headquarters here last week to all district police S.Ps to apprehend the Maoists active in their areas.
CAST YOUR VOTE
Are illegal immigrants chasing pipe dreams?


CHANDIGARH

LUDHIANA

JALANDHAR
New

DELHI

HIMACHAL PLUS
New

AMRITSAR PLUS

LIFESTYLE
New

BRIDES WANTED

GROOMS WANTED

OTHERS

HOW TO PLACE ADVTS
In Real Estate today

Ash, Abhi Jodi No 1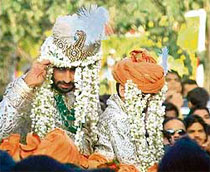 Mumbai, April 20
Billed as the wedding of the year, Bollywood stars Abhishek Bachchan and Aishwarya Rai exchanged nuptial vows at a colourful but an extremely private ceremony this evening.



In Video(56k)

Ghori pe ho ke swaR... Abhishek Bachchan gestures as he leaves his residence for his wedding to actress Aishwarya Rai in Mumbai on Friday. — Reuters



Suicide Drama

In Video (56k)

Nation page: Janhvi-Abhi affair was for real: Mother
Goodbye: Brian
Lara will play his last innings against England today

The 37-year-old Trinidadian holds the record for the highest Test score (400 not out) and in the first-class game (501 not out). He amassed 11,953 runs in 131 Tests and 10,387 runs in 298 One-Day Internationals.
Details on Sports page
In Saturday Extra today

In Sports Tribune today

HOROSCOPE

Hasina firm on going back home
Former Prime Minister Sheikh Hasina Wajed is determined to return to Bangladesh despite the interim government's efforts to prohibit her from doing so, according to her son.


A Tribune Debate
Harmony in relations will help, writes P.P. Rao
See Opinion page
Monica Bedi regrets Salem's company
New Delhi, April 20
Bollywood starlet Monica Bedi, facing trial in second passport forgery case in a Madhya Pradesh court along with her mentor underworld don Abu Salem, today moved a fresh bail petition in the supreme court.
Four main charges against Virk
Chandigarh, April 20
The Punjab government today chargesheeted former director-general of Punjab police S.S. Virk, who is currently under suspension. He was charged on four counts in the chargesheet prepared by the state Home Department.

India, China border talks today
New Delhi, April 20
India and China are scheduled to begin their two-day talks on boundary dispute in Coonoor (Tamil Nadu) tomorrow.


Untapped bounty in Punjab
Chandigarh, April 20
The Punjab government has possibly found the proverbial "treasure trove" to fund some critical development works in the rural areas. The state, after finding out several new schemes — funds for which have so far remained untapped for one reason or the other — is now working overtime to get this money which can virtually transform the beneficiary villages.
In Amritsar Plus today

E - Revolution 2005:
A Two-day IT conclave

Assembly Elections - 2005

Turbans

Chandigarh is 50

EARLIER FEATURES
Police takes custody of MP Katara
April 20, 2007
Human trafficker-MP held
April 19, 2007
India loses Asiad bid
April 18, 2007
22 shot in US varsity
April 17, 2007
Rahul UP's future: Manmohan
April 16, 2007
No need for sanction in graft cases: SC
April 15, 2007
After VHP, Uma backs BJP
April 14, 2007
Now, pulse import to fight prices
April 13, 2007
Virk sent back to Maharashtra
April 12, 2007
Goodbye Halwara, hello Sahnewal
April 11, 2007
Vendetta: Capt
April 10, 2007