Heat wave sends prices of veggies soaring
Phagwara, June 26
A sharp rise in the vegetable prices over the past few days is burning a big hol e in the pockets of residents. The poor production has hit the supply hard. "The intense heat wave in the region has adversely affected the vegetable production," says Tirath Ram, a wholesale vegetable vendor on Hoshiarpur Road.


Pedalling their way to limelight
Kapurthala, June 26
Four cyclists from different parts of the state claim to have made a new world record by reaching world's highest motorable road, Marshimikla, situated at a height of 18634 feet, in Leh, Jammu and Kashmir, in just eight days.


Members of an expedition claimed to have set a new record by reaching World's highest motorable road in just eight days.

Scripting success
Wind beneath their wings
Jalandhar, June 26
Government Model Co-educational Secondary School on Ladowali Road here was in news for all the right reasons this time.


The Government Model Co-Education Secondary School has helped its students to become achievers. — Photo by S.S. Chopra



Greener pastures: Dera sevadar defrauds widow
Phagwara, June 26
In the unending instances of Punjab youths attempting to migrate to developed countries, thus losing money and landing in trouble, another case of Harpreet Singh, a resident of Narur village, came to light here when his widowed mother allegedly accused a "sevadar" of a dera of defrauding her of one acre and 12 marla of land on the pretext of sending her son to Greece.


It's just the beginning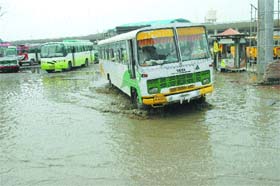 A drizzle on Tuesday was enough to make the local bus stand a huge pool of water. — Tribune photo by Pawan Sharma
Young World
Students march for Kalam
Jalandhar, June 26
Supporting Dr A.P.J. Abdul Kalam as the next President of India, a march was organised by students of CT Public School on Tuesday. Children also shouted slogans, "No dirty politics -We want only Kalam" and "After Chacha Nehru - Kalam uncle".
Loneliness can lead to dementia
Jalandhar, June 26
Terming loneliness as the main factor responsible for dementia, a chronic insanity, associate professor, department of neurology, AIIMS, Dr Manjari Tripathy, said the disease was on a rise among the aged people.
SBI life insurance opens branch
Jalandhar, June 26
SBI Life Insurance Company on Tuesday announced formal opening of its branch here, the fourth in Punjab after Ludhiana, Bathinda and Patiala. The new branch was opened in Crystal Plaza Market on Garha Road.