PUNJAB

HARYANA

JAMMU & KASHMIR

HIMACHAL

REGIONAL BRIEFS

NATION

OPINIONS

MAILBAG

BUSINESS

SPORTS

WORLD
ADVERTISEMENT
ADVERTISEMENT
Friday, July 6, 2007, Chandigarh, India
Updated at 3:00 am (IST)

8 militants fleeing Lal Masjid held
Islamabad, July 5
Eight hardcore militants were arrested today while trying to escape from the besieged Lal Masjid as Pakistan army stepped up the offensive to flush them out from the seminary by resorting to selective bombardment using helicopter gunships which damaged its gates and walls.


Abdul Aziz

Chief cleric remanded
Opinions page: Why the "Musharraf System" will stay in Pak
Editorial: Message from Lal Masjid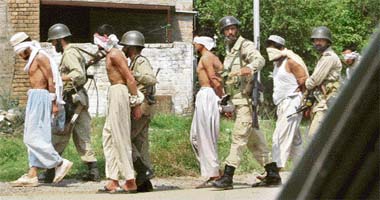 Pakistani soldiers escort detained militants who were holed up in Lal Masjid in Islamabad on Thursday. — AFP photo
CAST YOUR VOTE
Has the use of cell phone cameras become too intrusive?



India: The Tasks Ahead
SPECIAL SUPPLEMENT
125TH ANNIVERSARY CELEBRATIONS,
INAUGURAL SESSION





CHANDIGARH

LUDHIANA

JALANDHAR

DELHI

HIMACHAL PLUS

HARYANA PLUS
New

AMRITSAR PLUS

LIFESTYLE

BRIDES WANTED

GROOMS WANTED

OTHERS

HOW TO PLACE ADVTS
HOROSCOPE

PM to Brown: Don't stereotype Indians
New Delhi, July 5
Prime Minister Manmohan Singh today donned a South Asian mantle and batted for Pakistan as well as its beseiged President Pervez Musharraf. Manmohan Singh also disclosed that he telephoned British Prime Minister Gordon Brown yesterday in context of a "fear psychosis" gripping the South Asian community.


UK Terror Plot: 96 hours to quiz Haneef
Future calling: India to take part in nuclear fusion project
New Delhi, July 5
In a significant development, the Union Cabinet today approved the country's participation in the International Thermonuclear Experimental Reactor project aimed at demonstrating the feasibility of controlled nuclear fusion as a source of energy.
V-P poll on August 10
New Delhi, July 5
The poll to elect the successor for Vice-President Bhairon Singh Shekhawat will be held on August 10, the Election Commission announced here today. The term of Shekhawat, who is contesting the presidential poll as an Independent backed by the NDA, ends on August 18.

E - Revolution 2005:
A Two-day IT conclave

Assembly Elections - 2005

Turbans

Chandigarh is 50

EARLIER FEATURES
Naga raiders kill 3 in Assam
Guwahati, July 5
Three persons were killed and a large number of houses torched when armed miscreants from Nagaland swooped down on two bordering villages in Sivasagar district of Assam in the wee hours today.
Accident cuts short promising career
Lucknow, June 5
An accident cut short the promising life of a 24-year-old Indian student Abhishek Singh, originally from Faizabad, when a sport utility vehicle hit him hurling him into a river in the US state of Ohio.
Pak CJ case
SC promises 'historic' judgement
The Supreme Court judges on Thursday promised to deliver a "historic" judgement in the case of Chief Justice Iftikhar Chaudhry petitions challenging his removal by President General Pervez Musharraf.


House Recording
UP MLAs' mobile phones seized
Lucknow, July 5
Taking serious note of the video clips recoded by some legislators inside the House, Uttar Pradesh Assembly Speaker Sukhdeo Rajbhar on Thursday banned the use of mobile phones during Assembly proceedings and seized the phones used by two legislators for taking the clips.

1,200 surrender, desert
July 5, 2007
2 Indian docs held in UK, Australia
July 4, 2007
Debug all judges, court: Bench
July 3, 2007
Day II: BSNL fails to connect
July 2, 2007
Chandigarh down
July 1, 2007
Interim bail for dera chief
June 30, 2007
Telgi gets 13-yr RI, Rs 100-cr fine
June 29, 2007
Congress exerting 'undue pressure' on voters: NDA
June 28, 2007
Sena, BJP in a scrap
June 27, 2007
Shiv Sena to back Pratibha
June 26, 2007