PUNJAB

HARYANA

JAMMU & KASHMIR

HIMACHAL

REGIONAL BRIEFS

NATION

OPINIONS

MAILBAG

BUSINESS

SPORTS

WORLD
ADVERTISEMENT
Sunday, July 29, 2007, Chandigarh, India
Updated at 3:00 am (IST)

Haneef returns home today
Bangalore, July 28
Dr Mohammed Haneef, who was cleared of terrorism charges in connection with the failed attacks on Glasgow airport in the United Kingdom, will return home tomorrow, his family said.
THE SMILE IS BACK: Mohammed Haneef arrives at Brisbane Airport to fly out of Australia for India with his lawyer after federal immigration minister Kevin Andrews gave him back his passport on Saturday.
It was a family gathering — Bali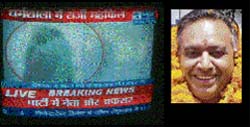 Blackout follows revelations
Minister Bali quits over birthday ball
Dharamsala, July 28
Himachal Pradesh transport and tourism minister G.S. Bali was 'caught' dancing with some call girls called from New Delhi on his birthday party yesterday at Asia Health Resort in McLeodganj in a sting operation of a national private news channel.
Defence Lawyers Roughed Up
Beant case sentencing postponed
Chandigarh, July 28
The pronouncement of the quantum of sentence in the Beant Singh assassination case was deferred to Monday following the alleged manhandling and roughing up of defence lawyers by the Burail jail staff and police today.
CAST YOUR VOTE
Are you happy with the state of the nation?



India: The Tasks Ahead
SPECIAL SUPPLEMENT
125TH ANNIVERSARY CELEBRATIONS,
INAUGURAL SESSION

ADVERTISEMENT


CHANDIGARH

LUDHIANA

JALANDHAR

DELHI

HIMACHAL PLUS

HARYANA PLUS
New

AMRITSAR PLUS

LIFESTYLE

BRIDES WANTED

GROOMS WANTED

OTHERS

HOW TO PLACE ADVTS
HOROSCOPE

Sharif spurns Pervez offer
Islamabad, July 28
Former Pakistan Prime Minister in exile Nawaz Sharif has rejected President Pervez Musharraf's olive branch by turning down a government offer of an open field to his party in the coming general election, a daily reported today.

Eight killed in police firing during AP bandh
Hyderabad, July 28
The land struggle by Left parties took a violent turn in Andhra Pradesh during the day-long bandh today when eight persons, including a woman, were killed in police firing at a stone-pelting mob in Khammam district.
Goa CM to face trust vote tomorrow
Mumbai, July 28
Goa's Chief Minister Digambar Kamat will face a confidence vote when the State Assembly meets on Monday. Kamat told reporters in Panjim today that Governor S.C. Jamir has directed him to take the confidence vote on the floor of the house. The governor has already directed Speaker Pratapsinh Rane to take the test vote ahead of the other items on the agenda.
Former Chief Minister of Goa Manohar Parikkar along with a delegation of MLAs from Goa in front of Rashtrapati Bhavan in New Delhi on Saturday.
— PTI photo
| | |
| --- | --- |
| | |
| | HARYANA: Pollution board directions go up in flames |
| | HIMACHAL: Daily wage workers to be regularised |
| | |
| | CHANDIGARH: Judicial magistrate sleeps over HC orders |
| | LUDHIANA: CM asks industry to chip in |
| | |
| | OPINIONS: Ethnic conflict in Sri Lanka |
In Spectrum today

E - Revolution 2005:
A Two-day IT conclave

Assembly Elections - 2005

Turbans

Chandigarh is 50

EARLIER FEATURES


Indians markedly happier
Silicon Valley, July 28
Indians are markedly happier and more optimistic today than they were five years ago, a recent survey on global opinions has said. The survey, conducted by the Pew Global Attitudes Project in about 47 nations, shows that increasing contentment in India as well as some other developing nations.

Sachin scales 11,000-run summit
Nottingham, July 28
Sachin Tendulkar today became the third batsman to score 11,000 runs in the longer version of the game when he reached 27 on the second day of the second Test against England at Trent Bridge here.


(Details on Sports page)



Sports page: India tighten grip on Test

Dominating the finds is this rare painted rabab
Nondescript gurdwara throws up rare treasures of Gurus' times
Chandigarh, July 28
After ages of obscure existence at a gurdwara in Fatehgarh Sahib, a treasure trove of artifacts belonging to the period of the Sikh Gurus has been unravelled and documented. Dominating the list of finds, comprising among other things two rare swords with Guru Gobind Singh's name engraved on them and 62 arrows.
6 convicted for killing Beant Singh
July 28, 2007
Congress set to lose Goa
July 27, 2007
Pratibha calls for inclusive growth
July 26, 2007
FIR registration must: SC
July 25, 2007
Shaken BJP suspends 5 anti-Modi MLAs
July 24, 2007
Speaker set to push 'no work, no pay' rule
July 23, 2007
123 deal signed and sealed
July 22, 2007
Pak CJ reinstated
July 21, 2007
U-turns but advantage Pratibha
July 20, 2007
Death for 3
July 19, 2007