Nobel for Lessing
Stockholm, October 11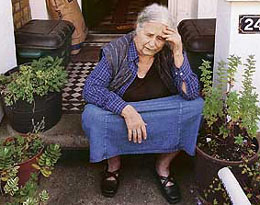 British novelist Doris Lessing won the 2007 Nobel Prize for literature today for a body of work that delved into human relations and inspired a generation of feminist writers.
'ROYAL FLUSH': British writer Doris Lessing holds her head in her hands outside her home in north London, on Thursday, as she is told by photographers that she has won the Nobel Literature Prize, after returning from a shopping trip. Lessing welcomed the announcement, saying it completed a "royal flush" of literary awards. — AFP photo
42 Badrinath pilgrims die in mishap
Dehra Dun, October 11
Forty two persons, mostly pilgrims from Orissa returning from Badrinath, were killed when the bus, they were travelling in, fell into a gorge in Chamoli district of Uttarakhand today. Rescue teams have fished out 40 bodies so far. Two rescued persons are in critical condition.
Rs 1 lakh for info on kidnapped boy
Patna, October 11
The government today announced a reward of Rs 1 lakh for providing information about Akash Pandey (12), who was abducted from here on August 10. Even though Chief Minister Nitish Kumar tried to sensitise the police time and again in the past for results-oriented performance, the police is yet to recover the boy.