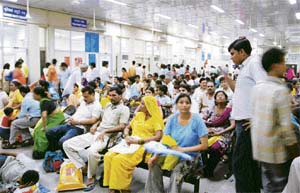 Aiims: Ailing Institute
The All India Institute of Medical Sciences (AIIMS), established in 1956 as an institute of national importance by an Act of Parliament, is the country's premier medical institute for referral and research purposes. Lately, however, it has been in the news for the wrong, often 'unhealthy,' reasons. Tripti Nath looks at what ails AIIMS
Every now and then, one gets a request from acquaintances and friends for an appointment with A IIMS doctors. The institute inspires immense confidence across the board—among the poor, the middle-class and the elite.
Indian art at great heights: Raza
Parveen Chopra
Indian contemporary art has reached unprecedented heights in the world, said Sayed Haider Raza, one of India's most prominent and critically acclaimed modernists, at the inauguration of his first ever retrospective in the US. He attributed the phenomenon to Indian painters' "understanding of Indian culture as well as of today's world".
---
Society


Weaving dreams, living a nightmare
Tarannum
Few Indian bridal trousseaus are complete without the inclusion of an exquisite Banarasi saree. However, the women behind the creation of the spectacular yards of fabric have never been given their due. This despite the fact that they are involved in the entire creative process—from weaving to adding embellishments to giving the final touches.

Return of the nose ring
Dipti Rai
In recent times Sania Mirza has brought back the traditional Indian nose ring to the limelight. A well-chiselled nose adds beauty to a woman's face. A tiny nose stud makes it more beautiful. And the nose ring or stud is a new addition to bridal jewellery. In the olden era, before the maiden took the saat pheras, her nose was pierced and the auspicious nose ring worn by her then would be worn throughout her life.

Women prefer men with deep voices
Researchers from the US and Canada have found that women prefer men with deep voices to those with a good physique or an attractive face. The researchers discovered this after interviewing 52 women and 49 men from the Hadza tribe in Tanzania. Hadza has a population of 800 and their lifestyle reflects those of humans thousands of years ago.
---
On the safari trail
A visit to Masai Mara, one of Kenya's most stunning game reserves, is a lifetime's experience... leaves you wanting more, says Thomas Abraham
Cheetahs chasing antelopes, lionesses feasting on a buffalo, zebras ambling across the road — where do you see all of this on one day? Maybe on the National Geographic Channel. But this one was for real — very real. A visit to the Masai Mara in Kenya — home to the greatest game show in nature — is truly breathtaking. From our small Beachcraft, we can see vast expanses of rolling grasslands scattered with acacia woods and bush.
Just for jest
Randeep Wadehra
Ever since its inception, humour on TV has changed from the near sublime to the earthy both in form and content, acquiring more range and variety in the process. Wagle Ki Duniya epitomised the genteel, understated family comedy that remains unmatched and, mercifully, un-remade till date. Mercifully, because you just can't recapture the pristine aura of a classic original. Other family comedies that remain etched on one's mind are Yeh Jo Hai Zindagi and Dekh Bhai Dekh.
Breaking news for TRPs
Shoma A. Chatterji on It's Breaking News, a film that questions the validity of media's sting operations
Television journalism has not yet featured as the main focus of any feature film in Bollywood. This marks a significant 'absence' in view of the ambience and spread of television news channels that, in recent years, have successfully and perhaps diabolically, converted 'news' into 'entertainment.'
Kaka's second innings
Karan Kapoor
Rajesh Khanna is aiming to make it big in the second innings of his film career. Starring in Kaash Mere Hote, Khanna says, "My role in the film is unusual. I hope my audience would bestow me with the same love they gave me in my first innings," says Khanna. Music director Shravan is the song director of the film. Kumar Sahil of Ludhiana play's the lead role in the film.
Farhan's brother act
Subhash K. Jha
From the time he made that feisty feel-cool film about three urban dudes called Dil Chahta Hai to his surrealistic take on the Amitabh Bachchan blockbuster Don, Farhan Akhtar has never ceased to surprise. Farhan has agreed to play the lead in his sister Zoya Akhtar's directorial debut Luck By Chance. This is probably the first occasion when an established filmmaker would star in his sister's directorial venture.