PUNJAB

HARYANA

JAMMU & KASHMIR

HIMACHAL

REGIONAL BRIEFS

NATION

OPINIONS

MAILBAG

BUSINESS

SPORTS

WORLD

Saturday, December 15, 2007, Chandigarh, India
Updated at 3:00 am (IST)

Train rams bus, 16 killed
Chuhad Chak (Moga), December 14
16 persons, including seven teenagers and four women, were killed and 14 injured, some of them seriously, when a mini-bus rammed into the Satluj Express, which was heading to Ferozepur from Ludhiana, at 7.15 am here today at a railway crossing.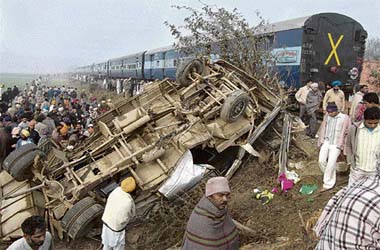 This is what remained of the mini-bus, carrying school-going children and women, after it was hit by the Satluj Express at Chuhar Chak railway crossing, in Moga district, on Friday morning.
— Tribune photo by Malkiat Singh


CAST YOUR VOTE
Is building a nuclear submarine a strategic necessity?


CHANDIGARH

LUDHIANA

BATHINDA

JALANDHAR

DELHI

HIMACHAL PLUS

HARYANA PLUS

AMRITSAR PLUS

LIFESTYLE

BRIDES WANTED

GROOMS WANTED

OTHERS

HOW TO PLACE ADVTS
HOROSCOPE
Two Indian students shot dead on US varsity campus
Baton Rouge (Louisiana), December 14
Two Indian doctoral students were found shot dead in an apparent home invasion in Louisiana University campus apartment and the police today were searching for three suspects in the killings.
Climate talks: Deal reached to tackle deforestation
Nusa Dua, Indonesia, December 14
Climate talks in Bali reached a deal today to tackle greenhouse gas emissions from deforestation, hailed as a sign of developing nations' commitment to fighting global warming.
Fog disrupts train, air services
New Delhi, December 14
There is not likely to be any let-up in the fog situation in the Capital, at least during the next couple of days. The thick veil of fog that enveloped the Capital today reduced the runway visibility range to as low as 200m in the wee hours severely affecting air traffic, leaving hundreds of domestic passengers stranded at the Palam airport.


In videos (56k)
A Tribune Debate
Judges vs Judges
A ruling by a two-member Supreme Court Bench against "judicial over-reach" and the subsequent remarks by Chief Justice of India Justice K.G. Balakrishan have given rise to a controversy at the bar and in the country.
— H. K. Dua
Editor-in-Chief



Editorial page: "Judges vs judges: There are limits to activism"

E - Revolution 2005:
A Two-day IT conclave

Assembly Elections - 2005

Turbans

Chandigarh is 50

125 Years of The Tribune
India: The Tasks Ahead

EARLIER FEATURES
Unofficial possession of revolvers
Probe against IPS officers
Patna, December 14
The Nitish government today ordered a probe into the matter involving some IPS officers who reportedly failed to return the official revolvers even after their retirement or deputation for central duty.

'Akash' successfully test-fired again
Balasore (Orissa), December 14
'Akash', the indigenously developed surface-to-air nuclear capable missile, was today successfully test-fired for the second time in two days from the integrated test range at Chandipur-on-sea, 15 km from here.
A Tribune Exclusive
Freebie bonanza on Air India
New Delhi, December 14
Struggling Bollywood actress, distant nephews can fly free. It seems that Dr Vishwapati Trivedi, joint managing director, Air India, truly has a universe-sized family when it comes to handing over free tickets.


Scenti-mental in Punjab
Chandigarh, December 14
Now may be just the time for the celluloid Lt Col Frank Slade of the "Scent of a Woman" fame to be in Punjab. This is why: for a mere two per cent of the country's population, Punjabis have just become the biggest buyers and users of perfumes sold in the country — 20 to 25%.

5 die in Assam Rajdhani blast
December 14, 2007
Capt, Jagjit named in VB challan
December 13, 2007
Schoolboys gun down classmate in Gurgaon
December 12, 2007
SC cautions courts against 'overactivism'
December 11, 2007
EC notice to Sonia, Digvijay
December 10, 2007
Modi: I was misquoted
December 9, 2007
Free power in Punjab to go
December 8, 2007
Sohrab remark: EC rap for Modi
December 7, 2007
Govt fails to convince Left, BJP on N-deal
December 6, 2007
123: PM, Sinha exchange salvos
December 5, 2007