Thursday, January 17, 2008, Chandigarh, India
Updated at 3:00 am (IST)

Minority quota under review
New Delhi, January 16
The Centre is looking into the demand of minorities for reservation in educational institutions and government jobs. Home minister Shivraj Patil today indicated that the government was not averse to the idea of giving land to landless members of minorities, just as it had been given to SC/ST and recently to forest dwellers.




Nation Page:
"No proposal for religion-based reservation: Arjun Singh
Punjab sows, Haryana reaps
Chandigarh, January 16
"Punjab sows, Haryana reaps". This is how a senior politician commented with regard to the extension of the Mumbai-Delhi industrial corridor up to Ludhiana.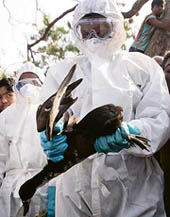 Culling begins
Bengal sounds alert
Kolkata/New Delhi, January 16
A general alert was today sounded across West Bengal following an outbreak of bird flu in Birbhum and South Dinajpur districts as culling of operations began in the two affected areas.
Health workers kill ducks at the village of Bamdevpur, some 250 km north of Kolkata, on Wednesday. Health officials began the slaughter of tens of thousands of chickens, a day after New Delhi confirmed an outbreak of the deadly avian flu in the region. — AFP photo

Editorial: And now bird flu