Thursday, March 27, 2008, Chandigarh, India
Updated at 3:00 am (IST)

N-deal not at 'now or never' point: US
Washington, March 26
The controversial Indo-US civil nuclear deal has not reached the point of "now or never", the White House has said after External Affairs Minister Pranab Mukherjee's talks with President George W Bush here. "... we have a little bit of time before we have to say now or never. We've got several months to continue to work with them (India)," White House Press Secretary Dana Perino said.
Dalmiya held, freed on bail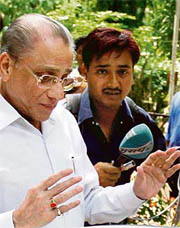 Mumbai, March 26
Former president of the Board of Control for Cricket in India, Jagmohan Dalmiya was today formally arrested on charges of misappropriating more than Rs 2.90 crore of the BCCI's funds but was immediately released on bail of Rs 25,000. Dalmiya was taken into custody at the offices of the Economic Offences Wing (EOW) of the Mumbai police where he appeared today.
Jagmohan Dalmiya arrives at the Economic Offences Wing of the Mumbai City Police on Wednesday. — Reuters

Trapped 3-yr-old girl rescued from borewell
Agra, March 26
Defying all odds, a little girl miraculously survived a 27-hour ordeal after she was pulled out alive tonight from a 45-feet borewell where she was trapped in a dramatic rescue operation that also involved the Army. "Vandana is hale and hearty," Agra district magistrate Mukesh Kumar Mishram told reporters after the girl was brought out into the open from 45 feet below the narrow shaft where she got stuck.