PUNJAB

HARYANA

JAMMU & KASHMIR

HIMACHAL

REGIONAL BRIEFS

NATION

OPINIONS

LETTERS

BUSINESS

SPORTS

WORLD
Monday, June 16, 2008, Chandigarh, India
Updated at 3:00 am (IST)

Karzai threatens to attack 'terrorist nests' in Pak
Kabul, June 15


In his toughest stance yet on crushing Pakistan-based insurgency, Afghan President Hamid Karzai said today that his country had the right to dismantle "terrorist nests" in the neighbouring country in "self-defence". "Afghanistan has the right to destroy terrorist nests on the other side of the border in self-defence," Karzai told a news conference here. Karzai's warning is the first open threat to send troops inside Pakistan, though he has often confronted Islamabad on its failure to prevent Taliban from finding a safe haven in the tribal areas.
16 die as bus falls into gorge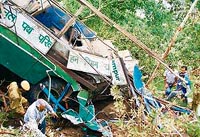 Shimla, June 15
Sixteen persons were killed and five injured when a bus of the state road transport corporation fell into a 300-foot-deep gorge near Bhadrash Kainchi in Rampur subdivision today.

The wreckage of the bus that rolled down a gorge near
Bhadrash Kainchi in Rampur in Himachal Pradesh on
Sunday. — A Tribune photograph

CAST YOUR VOTE
Are you worried about weapons of mass destruction falling into terrorists' hands?

Advt
ASTROLOGER GANJAWALA
Marriage, Job, Immigration, Foreign Tour, Business, Solve with Sidh Hindu Remedies.
+91-98155-95108 (INDIA)


CHANDIGARH

LUDHIANA

BATHINDA

JALANDHAR

DELHI

HIMACHAL PLUS

HARYANA PLUS

JALANDHAR PLUS

AMRITSAR PLUS

LIFESTYLE

BRIDES WANTED

GROOMS WANTED

OTHERS

HOW TO PLACE ADVTS

Arushi Murder
Nupur Talwar may be arrested
Undergoes third lie-detector test


New Delhi, June 15
There was another twist in the tale of Arushi Talwar's month-old murder along with that of Hemraj, her family's domestic help in Noida, with the CBI today saying that the mother of the teenaged school-going girl Nupur Talwar was put through a third lie-detector test and could also be arrested.


K'nataka MLA's wife found dead
Bangalore, June 15
The death of Padmapriya, wife of BJP legislator from Udupi Raghupathi Bhat, has come as a big jolt for the new BJP government in Karnataka.
Montek to car users
Be ready to shell out more
New Delhi, June 15
Car users, especially those belonging to the affluent classes, should be ready to shell out more for petrol and diesel if the crude oil prices increase further,Planning Commission deputy chairman Montek Singh Ahluwalia said.

E - Revolution 2005:
A Two-day IT conclave

Assembly Elections - 2005

Turbans

Chandigarh is 50

125 Years of The Tribune
India: The Tasks Ahead
India at Sixty
A Tribune Supplement

EARLIER FEATURES
Gujjars reject Raje govt's proposals
Karwadi/Jaipur, June 15
The Gujjar leadership today rejected the proposals of the Rajasthan government to end the 24-day-old stir, but agreed to continue the dialogue process in Jaipur aimed at finding a way out. The proposals, set out in a letter by the state government, were turned down by community patriarch Kirori Singh Bainsla, senior Gujjar leader Capt Jagran Singh (retd) said over the phone.
108-yr record for Delhi washed away
New Delhi, June 15
Monsoon this year has broken a 108-year record by arriving in the national capital 14 days ahead of the scheduled date of June 29. The India Meteorological Department (IMD), which declared the onset of monsoon in Delhi today, said the southwest monsoon had advanced into most parts of Gujarat, Madhya Pradesh, Uttar Pradesh, Punjab, Rajasthan and Haryana.


Flood alert in areas close to Ravi
Pathankot, June 15
In view of heavy rain lashing the region for the past two days, the state Irrigation and Drainage Department sounded an alert in various pockets of this district for low flood in the Ravi this morning. The flow of water in the river downstream Madhopur headworks reached around 63,000-cusec mark today. The drainage authorities had to open sluice-gates of the headworks to let river water flow into Pakistan. "Since the Thein Dam was constructed, water in the Ravi downstream the Madhopur headworks, which flows into Pakistan, has rarely been released. It was released about six or seven years ago," said a senior official of the department, adding that there was no threat of floods in the area.
HOROSCOPE
Srinagar under grenade attack
June 15, 2008

Lt-Col, 4 others killed
June 14, 2008

Rs 850 MSP for paddy
June 13, 2008


Singhs exit Ranbaxy


June 12, 2008

Punjab & Haryana HC in crisis
June 11, 2008

PM warns of N-terror attack
June 10, 2008

Mayawati sacks minister
June 9, 2008

Info on funds to NGOs to be made public
June 8, 2008

UPA differs on rollback
June 7, 2008

Govt in damage control mode
June 6, 2008