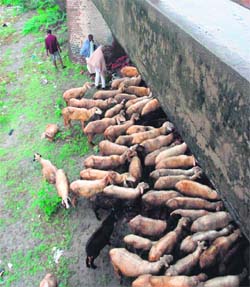 A shepherd takes shelter from rain under a bridge on the Meerut road in Karnal. Tribune photo: Ravi Kumar
Gurgaon hopes to get better representation
Gurgaon, January 25
With elections to the Lok Sabha drawing near, people in the millennium city are anxious to know who will be their next representative. The city has been hit by several kinds of problems like poor roads, sewerage and lighting, pollution, traffic jams, crime etc, with very little progress seen in the past five years.
Cong to bring Chautala's detractors on one platform
Sirsa, January 25
KV Singh, officer on special duty with Chief Minister Bhupinder Singh Hooda, plans to bring all political detractors of former Chief Minister Om Parkash Chautala at one platform when he organises "vishwas rally" at Dabwali, a strong political bastion of the Indian National Lok Dal, on February 8.
Public transport movement eased in NCR
Chandigarh, January 25
The constituent states of National Capital Region (NCR) - Haryana, Delhi, Rajasthan and Uttar Pradesh - have made an agreement to facilitate unrestricted and seamless movement of interstate traffic of passengers and goods in the NCR and to regulate, coordinate and control their operations.
Top cop inspires youth with patriotic songs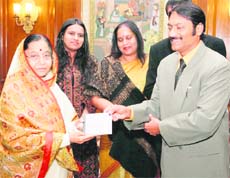 Bhondsi, January 25
IGP Sheel Madhur, in charge of the Police Training and Research Centre, Bhondsi, has found a novel way to infuse the youth with patriotism. A video album of six patriotic songs, written and sung by him, was released by Chief Minister Bhupinder Singh Hooda here. The audio album of these songs was released by President Pratibha Devi Singh Patil earlier this week.
President Pratibha Patil releases an album of patriotic songs, written and sung by IGP Sheel Madhur, at PTC, Bhondsi, in Gurgaon. Photo: Rajesh Kumar Yadav
Pensioners criticise state govt
Kurukshetra, January 25
The Haryana Pensioners Welfare Society (HPWS) has criticised the Haryana government for its failure to implement the recommendations of the Sixth Pay Commission for Haryana government pensioners.
Building for casualty wing awaited
Kalka, January 25
Despite the fact that the local civil hospital has already been upgraded to IPHC hospital and was given the best hospital award in Panchkula district in the second quarter of 2008, it is yet to have a separate causality building.
Panchkula MC plans new green belts
Panchkula, January 25
The local municipal council has planned to develop new green belts and garbage collection centres in the city. While green belts would be developed on the back side of houses on the intersecting roads, one garbage collection centre would be constructed for every two sectors.
Vikas manch rues 'neglect' of Ahirwal region
Rewari, January 25
The Dakshini Haryana Vikas Lok Manch (DHVLM), a voluntary organisation, has taken exception to the "continued neglect" of south Haryana by the successive state governments in the matter of higher education.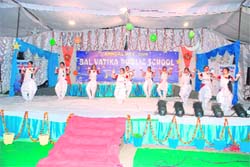 Tiny tots steal show at school function
Fatehabad, January 25
Tiny tots stole the hearts of everyone at "Taare Zameen Par", the annual function organised by the local Bal Vatika School here. Deputy commissioner J. S. Ahlawat was the chief guest.
Children perform during the annual function of Bal Vatika School in Fatehabad.
Fellow Mobilisation Award for Dr Gosain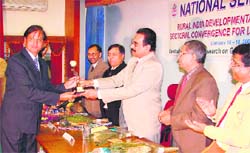 Karnal, January 25
The Society for Community Mobilisation for Sustainable Development, New Delhi, has conferred "Fellow Mobilisation Award 2008" on Dr Dalip Gosain, head of the Krishi Vigyan Kendra and dairy training centre of the National Dairy Research Institute (NDRI) in recognition of his contribution in the field of research, extension and teaching in sustainable mixed farming.
Dr MJ Modayil, member, Agricultural Scientist Recruitment Board, presents the Fellow Mobilisation Award to Dr Dalip K. Gosain.
College girls excel in sports, honoured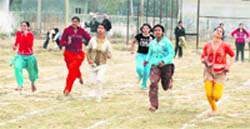 Gurgaon, January 25
As part of its golden jubilee celebrations, the Government Post-Graduate College honoured its students excelling in various sports recently. A two-day athletic meet was also inaugurated by noted international pistol-shooter Seema Tomar.
Students participate in a race at Government College, Gurgaon. Tribune photo: Sayeed Ahmed
New drug policy opposed
Ambala, January 25
The SME Pharma Industries Confederation (SPIC) has opposed the new drug policy of the state government.
Sirsa, January 25
Bee-keepers from the far flung areas of Himachal Pradesh and Punjab find the flowing crops of mustard in this part of Haryana as ideal for the production of quality honey. Scores of families from Himachal Pradesh and Punjab have been camping in this district along the national highway no. 10 in Sahuwala, Panniwala Mota, Odhan, Dabwali villages and the surrounding areas with their boxes of bees lying near the mustard fields.

Boxes of bee-keepers kept in the fields along the national highway in Sirsa. Photo: Amit Soni
First onion warehouse to come up in state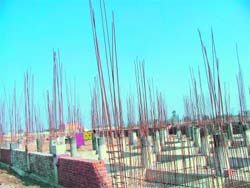 Beri (Jhajjar), January 25
Farmers engaged in onion farming need not worry about the problem of storage of their crops due to non-availability of a warehouse in the district or even in the state. The state government has decided to set up the state's first onion warehouse with a view to providing storage and processing facilities to the farmers, apart from increasing and saving the onion production.
The construction of markets in progress in Beri village in Jhajjar district.
Varsity celebrates birth anniversary of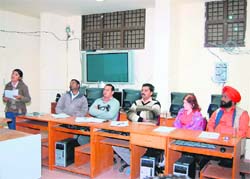 Sirsa, January 25
The journalism and mass communication department of Chaudhary Devi Lal University recently organised a programme to celebrate the birth anniversary of Swami Vivekanand and Subhash Chandra Bose, who were born on January 12 and January 23, respectively.
Journalism and mass communication student Shreyashi presents her poem on Subhash Chandra Bose, while Ravinder Dhillon, Amit Sangwan, Virender Singh Chauhan, Padmani Jain and Sewa Singh Bajwa seated (from left to right) on the dais at a function organised in CDLU recently.
Political scions try to drum up support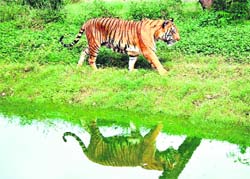 Hisar, January 25
Heirs apparent of political bigwigs are toiling it out in the dusty lanes of the rural areas of Haryana trying to drum up support for their fathers' political parties. While MP Ajay Chautala, elder son of former Chief Minister Om Parkash Chautala, is on a month-long "janakrosh yatra" to rejuvenate the party in the run up to the Lok Sabha elections, former Chief Minister Bhajan Lal's heir apparent Kuldeep Bishnoi is currently on a "Kuldeep chale chaupal" campaign for the same purpose.
A tiger in the mini-zoo of the Tilyar Tourist Complex in Rohtak. Photo: Manoj Dhaka
Amartex store in Kurukshetra
Chandigarh, January 25
At a time when various retail chains are closing their outlets, which saw a mushrooming growth in the past few years, in view of the economic meltdown, a Haryana-based retail company is doing the opposite.
Letter
Need to plant trees
Trees play an important role in keeping the environment clean.