Colours of folk art
Tribal and folk art forms are among the most glorious living traditions of India.
Charu Smita Gupta chronicles the evolution and resurgence of these in her book Indian Folk and Tribal Paintings. Excerpts:
ART, among the tribal and folk communities in India, was never indulged in purely for pleasure. Its purpose was equally to pacify the malevolent deities and to pay homage and express gratitude to the benevolent ones. Festivals are linked to the two agricultural crop cycles of sowing, reaping, harvesting, and storing; festivities are also related to events such as birth, puberty, and marriage.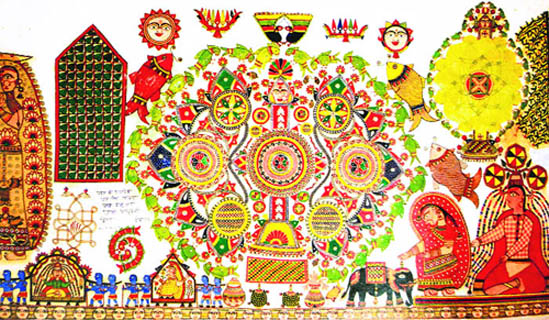 Water in safe hands
Known as kuhls in Kangra, these canals, which bring water from melted snow and rain to the plains from the Dhauladhar ranges, have become polluted due to rapid urbanisation. An Austrian doctor, backed by local women, has launched an initiative to keep the kuhls clean for providing safe drinking water, writes Nirupama Dutt
MOVE into the countryside in the hills and it is common to see women washing clothes by narrow streams gushing alongside roads. The song of trickling water is the continuous magical music of the Kangra valley in Himachal Pradesh, which is crisscrossed by thousands of irrigation canals.
Small is beautiful
R. K. Bhasin writes about Matheran, India's smallest hill station
A signboard at Dasturi Naka, the entrance to Matheran, situated at a height of 803 metres, in Maharashtra, carries the information that it is the tinniest hill station in India, the only pedestrian destination in Asia and the most clean hill station in India, which has been declared as eco-sensitive-zone by the Government of India.
Stonehenge
A rave venue, says expert
Stonehenge, one of the most famous pre-historic sites in Britain, has long baffled archaeologists who have argued for decades over its 5,000-year history. Now a researcher has claimed that it was a venue for ancient raves.
Chips for Jumbos
Vipul Goel
THEIR deft strokes transform a frail, earthly figure into the mighty Indian demigod Hanuman. Their soft touches can change a scrawny pork-marked face into that of an 'apasara'. But the make-up artistes of the Kathakali theatre, the classical dance drama of Kerala, are destined to remain the unsung, backstage heroes unlike the actors, musicians or drummers, who hog the whole limelight.
That messed-up look
Anju Munshi
YOU may consider yourself fashionable but that is not enough. You have to sport the look of the day. The messed-up look tops the popularity chart at the moment—the art of looking carefully careless.
Mohandas is a metaphor
Based on a real-life incident, Mazhar Kamran's Mohandas is about loss of values such as honesty, integrity and non-violence, says Shoma A. Chatterji
Mohandas is the story of an ordinary man and had to be portrayed by a face that was unfamiliar to my audience but also by a powerful actor. I could never have made it with Shah Rukh Khan or Aamir," says cinematographer-turned-director Mazhar Kamran about his directorial debut, Mohandas.
Danny chose me over Indian actors: Dev Patel
Dev Patel, who has won much critical acclaim for his performance in Slumdog Millionaire said he landed the role after director Danny Boyle could not find an Indian actor to play the young slum-dweller Jamal.