Tuesday, April 21, 2009, Chandigarh, India
Updated at 3:00 am (IST)

Pre-poll Bonanza
Retirement age now 60
27 pc salary hike for Punjab staff
Chandigarh, April 20
This is one bonanza which seems to have been timed to perfection for the ruling SAD BJP government in the state. The fifth Punjab pay commission has recommended a 27 per cent hike in salaries of government employees and increased the age of retirement from the current 58 years to 60 years.
State to outsource recruitment
Poll Manifesto
Akalis pledge autonomy for CBI, EC
Chandigarh, April 20
The Shiromani Akali Dal manifesto, released today promises autonomy and independence to the CBI as well as the Election Commission of India.
Editorial: Akali Dal manifesto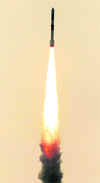 ISRO launches spy satellite
Chennai, April 20
Boosting the defence surveillance capabilities of the nation, ISRO today launched an all-weather Israeli-built spy satellite to help the security agencies keep a vigil on the country's borders and to monitor natural disasters.
PSLV-C12, carrying RISAT-2 and ANUSAT, takes off from the Satish Dhawan Space Centre in Sriharikota on Monday. — PTI