PUNJAB
HARYANA
JAMMU & KASHMIR
HIMACHAL
REGIONAL BRIEFS
NATION
OPINIONS
LETTERS
BUSINESS
SPORTS
WORLD
Advt
Own the most prestigious address in Ludhiana.
Exclusive residential
Studio Apartments / Villas & Plots at reasonable prices. For details contact: 9815007979, 9815000122

Saturday, May 16, 2009, Chandigarh, India
Updated at 9:00 pm (IST)

BREAKING NEWS
UPA set to return to power
New Delhi, May 16
The Congress-led UPA is all set to retain power at the Centre by putting up an impressive performance in states like Andhra Pradesh and Tamil Nadu to overwhelm the BJP-led NDA.
Congress wins eight seats in Punjab
SAD gets four, BJP one
CHANDIGARH: The Congress party has won eight out of 13 Lok Sabha seats of Punjab while the ruling Shiromani Akali Dal has won only four. The BJP has won one seat.
---
BJP, Congress wake up to Nitish's Bihar
New Delhi, May 15
In a precursor to the turn of events after results of the general elections are announced tomorrow, Bihar Chief Minister and JD(U) leader Nitish Kumar - on whom the BJP is banking heavily to form the government - made a statement in Patna today hinting at keeping options beyond the NDA open.


Editorial: The countdown begins
Country gets its mandate today
Counting of votes begins at 8 am; For instant results see www.eciresults.nic.in
New Delhi, May 15
Counting of votes polled in the nearly month-long Lok Sabha elections will begin tomorrow, even as political parties began searching for new friends and making up with foes fearing a fractured verdict.
CAST YOUR VOTE
Do better-than-expected corporate quarterly results show that India's economy is facing the global recession well?

Advt
India's Renowned Astrologer, Palmist, Tell your DOB,
0172-4372411, 09316048411.
BRIDES WANTED
GROOMS WANTED
OTHERS
HOW TO PLACE ADVTS
EDUCATION
JOBS & CAREERS
HEALTH & FITNESS
SCIENCE & TECHNOLOGY
REAL ESTATE
SPORTS
TRIBUNE CLASSIFIEDS
The powerful troika — Amma, Behenji & Didi
New Delhi, May 15
They are fondly called Amma, Behenji and Didi by their army of supporters. And no government perhaps can be formed without the active support of all the three -- AIADMK general secretary J Jayalalithaa, Bahujan Samaj Party (BSP) president Mayawati and Trinamool Congress chief Mamata Bannerjee -- or at least two of them.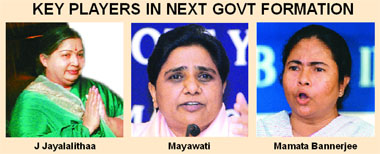 For votes, nomads made residents of Sangrur
Mandi Ahmedgarh, May 15
They are not permanent residents of any locality in the state. Nor do they have any ration card. Still they got registered as voters at certain villages in Sangrur district. They were promised free houses, besides cash considerations. Cars took them to various polling booths, but their return journey was not so comfortable.
More trouble for Ruby Dhalla
Toronto, May 15
Embattled Indian Canadian MP Ruby Dhalla, who is facing charges of abuse by her two former nannies, was in more trouble when an advocacy group working for foreign workers testified in support of the nannies.
NDA 60 Glorious Years
1857 The First Challenge
E - Revolution 2005:
A Two-day IT conclave
Assembly Elections - 2005
Turbans
Chandigarh is 50
125 Years of The Tribune
India: The Tasks Ahead
India at Sixty
A Tribune Supplement
EARLIER FEATURES
Disproportionate Assets Case
Runu Ghosh gets 3-yr jail
New Delhi, May 15
A Delhi court today sentenced former bureaucrat Runu Ghosh to three years rigorous imprisonment for amassing disproportionate assets worth Rs 20.94 lakh during the tenure of former Union Minister Sukh Ram. The court also ordered forfeiture of the assets.
Bindra to be produced in court on May 17
Zirakpur, May 15
A day after being arrested by the Delhi police in two separate cases of cheating and fraud, Dr AS Bindra, father of Olympic gold winner Abhinav Bindra, continued to be under observation at the Government Medical College and Hospital, Sector 32, Chandigarh.


Three months, three robberies
Panchkula, May 15
It took four armed young men barely 10 minutes on Friday afternoon to rob a State Bank of India ( SBI) branch in Panchkula of Rs. 11 lakh. The ordeal for the bank staff and customers, held hostage at gun-point, did not last long because the gang panicked at the sound of the hooter from an approaching police patrol vehicle.
Today's Specials
REAL ESTATE

J&K PLUS

AMRITSAR PLUS

SPORTS

Congress, BJP search for friends, plot for power
May 15, 2009

Voting ends on a high note
May 14, 2009

Cong, BJP all out to woo allies
May 13, 2009

UPA set to stage a comeback: PM
May 12, 2009

In last lap, NDA presents united face
May 11, 2009
Manmohan ignores demand for Eelam
May 10, 2009
SC suspends mining in Aravallis
May 9, 2009
57% polling in Ph IV
May 8, 2009
Obama holds talks with Zardari, Karzai
May 7, 2009
Rahul rattles NDA, upsets allies
May 6, 2009