PUNJAB
HARYANA
JAMMU & KASHMIR
HIMACHAL
REGIONAL BRIEFS
NATION
OPINIONS
LETTERS
BUSINESS
SPORTS
WORLD
BRIDES WANTED
GROOMS WANTED
OTHERS
HOW TO PLACE ADVTS
Sunday, June 7, 2009, Chandigarh, India
Updated at 3:00 am (IST)

Our image has taken a hit: Oz envoy
New Delhi, June 6


Australian High Commissioner to India John McCarthy, though admitting the recent racial attacks on Indian students in his country had damaged its perceptions in India, claimed Melbourne as well as other places in Australia remained relatively safe to live for people from all nationalities and backgrounds.
A task force has been established and concrete measures are being taken to ensure the safety of Indian students in Australia— John McCarthy
Proposed defence pact with Ukraine irks Moscow
Russia's concern
n Ukraine among world's top 10 arms exporters n It specialises in producing tanks, planes, anti-aircraft and radar systems n Moscow sees a competitor in Ukraine that can cut into its market in India
New Delhi, June 6
The country's oldest defence partner, Russia, is 'seeing red' over moves by India and Ukraine to forge a defence agreement. A formal draft of the pact has been exchanged with Ukraine, part of the erstwhile Soviet Union.
CAST YOUR VOTE
Do better-than- expected corporate quarterly results show that India's economy is facing the global recession well?

Advt
India's Renowned Astrologer, Palmist, Tell your DOB,
0172-4372411, 09316048411.
EDUCATION
JOBS & CAREERS
HEALTH & FITNESS
SCIENCE & TECHNOLOGY
REAL ESTATE
SPORTS
TRIBUNE CLASSIFIEDS
Pak 'used' US aid to build army
Washington, June 6
Pakistan has misused a substantial amount of military aid from the US meant to fight terrorism to build up its army with modern weapons and equipment for a conventional warfare against India, Pentagon documents have revealed.


Pak didn't produce proof to link Saeed to 26/11: HC
Corruption Cases
Sound proof must to fire employees: SC
New Delhi, June 6
Reaffirming that dismissal from service is the only punishment for corrupt government employees, the Supreme Court has, however, clarified that a charge of this grave nature should be "proved beyond any shadow of doubt and to the hilt" for taking the extreme step.
| | |
| --- | --- |
| | PUNJAB: Scam in Indira Awaas Yojna comes to light |
| | HARYANA: Power cuts defy authorities' claims |
| | |
| | HIMACHAL: Cabinet okays empanelment of pvt ayurvedic institutions |
| | CHANDIGARH: It's official. Highway robbery solved |
NDA 60 Glorious Years
1857 The First Challenge
E - Revolution 2005:
A Two-day IT conclave
Assembly Elections - 2005
Turbans
Chandigarh is 50
125 Years of The Tribune
India: The Tasks Ahead
India at Sixty
A Tribune Supplement
EARLIER FEATURES
M'rashtra in bind over land for Ambani SEZ
Govt has to decide between giving fresh lease of life to project or letting it lapse
Mumbai, June 6
The Maharashtra government is caught in a legal bind over the proposed special economic zone by industrialist Mukesh Ambani and his friend Anand Jain.
Exhibition of rare Guru Granth Sahib Birs
New Delhi, June 6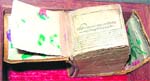 The newly set up Guru Granth Sahib Resource Centre in Bhai Vir Singh Sahitya Sadan in the Capital is holding a unique exhibition of some rare Guru Granth Sahib Birs in the world.
The smallest Guru Granth Sahib Bir which will be on display at the Guru Granth Sahib Resource Centre in Bhai Vir Singh Sahitya Sadan in New Delhi.
Let music be a balm, play on
Srinagar, June 6
Whenever he meets groups of youngsters who have turned disillusioned and even bitter over the turn of affairs in Kashmir, Ashraf Khan says he is convinced it is not only the internecine conflict in the state but also the gradual disappearance of art and cultural exhibitions that has left the new generation disoriented and searching for an identity.
LeT headhunter has close ties with Saeed
June 6, 2009

India will reshape ties with Pakistan: Prez
June 5, 2009

Saeed release disturbing, Pakistan envoy told
June 4, 2009

Pak frees 26/11 accused
June 3, 2009

PM hopes for a 'new beginning'
June 2, 2009

Enraged Indians rally for justice in Melbourne
June 1, 2009

Anger mounts as Oz image takes a hit
May 31, 2009
Horror Down Under
May 30, 2009
Sibal gets HRD, Sharma Commerce
May 29, 2009
Manmohan calls up 59 MPs
May 28, 2009