PUNJAB
HARYANA
JAMMU & KASHMIR
HIMACHAL
REGIONAL BRIEFS
NATION
OPINIONS
LETTERS
BUSINESS
SPORTS
WORLD
BRIDES WANTED
GROOMS WANTED
OTHERS
HOW TO PLACE ADVTS
Tuesday, June 9, 2009, Chandigarh, India
Updated at 3:00 am (IST)

Now, Mulayam does a Sharad Yadav in LS
Rallies behind Socrates to oppose women's


quota bill
New Delhi, June 8
Greek philosopher Socrates has suddenly emerged as the new reference point in the Socialists' opposition to the women's reservation bill, this despite the fact that the philosopher had a higher opinion of women than most of his companions.
Shopian Protest
Police opens fire on mob; 7 hurt
Srinagar, June 8
The eight-day-long strikes and protests witnessed their worst violence today as police and CRPF personnel opened fire in Shopian to control a violent mob, injuring seven persons, two of them seriously.
| | |
| --- | --- |
| | An injured being carried to a hospital in Srinagar on Monday. Tribune photo: Amin War |
CAST YOUR VOTE
Is there a lack of vocational education facilities in India?

Advt
India's Renowned Astrologer, Palmist, Tell your DOB,
0172-4372411, 09316048411.
EDUCATION
JOBS & CAREERS
HEALTH & FITNESS
SCIENCE & TECHNOLOGY
REAL ESTATE
SPORTS
TRIBUNE CLASSIFIEDS
Swine Flu
Capital count two, total 11
New Delhi, June 8
With the national capital confirming the second case of swine flu today, the total number of patients affected with influenza A (H1N1) across the country has risen to 11.
Second attack on Indian student in Oz
Melbourne, June 8
A 23-year-old Indian student was beaten up for the second time in a fortnight by a group of youths here, the 11th person from the community to be assaulted within a space of a month in Australia. Kamal Jit was found unconscious and bleeding by another Indian student in western suburb of the city yesterday.
NDA 60 Glorious Years
1857 The First Challenge
E - Revolution 2005:
A Two-day IT conclave
Assembly Elections - 2005
Turbans
Chandigarh is 50
125 Years of The Tribune
India: The Tasks Ahead
India at Sixty
A Tribune Supplement
EARLIER FEATURES
On Sundays
On Saturdays
Coming, bill to shield babus from netas
New Delhi, June 8
In a move that is bound to ruffle many feathers, the Centre proposes to introduce in the Budget session of Parliament, a bill to insulate top bureaucrats from political pressure and ensure a fixed tenure for chief secretaries.
Jailed Naxal MP takes oath
New Delhi, June 8
Flanked on the one side by the Delhi police personnel and on the other by wife Damanya Devi, Jharkhand Mukti Morcha's (JMM) jailed Palamau MP Kameshwar Baitha had his moment of glory in the Parliament today.
Theatre man Habib Tanvir dead
New Delhi/Bhopal, June 8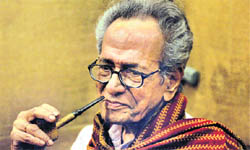 World-renowned theatre personality Habib Tanvir (86) passed away here on Monday. He is survived by his daughter Nagina. The funeral is scheduled for Tuesday noon.
He brought theatre close to masses



Milk or Menace
Sloppy system works for culprits
Chandigarh, June 8
The sale of synthetic milk continues unabated and even repeated raids have failed to deter those engaged in this dirty business. One of the interesting revelations of The Tribune survey has been the limit on the number of milk samples taken by the authorities concerned every month.
NCP MP held for Cong leader's murder
June 8, 2009
Our image has taken a hit: Oz envoy
June 7, 2009
LeT headhunter has close ties with Saeed
June 6, 2009
India will reshape ties with Pakistan: Prez
June 5, 2009
Saeed release disturbing, Pakistan envoy told
June 4, 2009
Pak frees 26/11 accused
June 3, 2009
PM hopes for a 'new beginning'
June 2, 2009
Enraged Indians rally for justice in Melbourne
June 1, 2009
Anger mounts as Oz image takes a hit
May 31, 2009
Horror Down Under
May 30, 2009