PUNJAB
HARYANA
JAMMU & KASHMIR
HIMACHAL
REGIONAL BRIEFS
NATION
OPINIONS
LETTERS
BUSINESS
SPORTS
WORLD
BRIDES WANTED
GROOMS WANTED
OTHERS
HOW TO PLACE ADVTS
Saturday, June 27, 2009, Chandigarh, India
Updated at 3:00 am (IST)

Bill on judges' assets soon
New Delhi, June 26
The UPA government is planning to make it mandatory for judges to declare their assets and liabilities. Law Minister M Veerappa Moily today said a legislation would soon be introduced in Parliament, making it essential for judges to declare their assets and liabilities.


Punjab seeks loan waiver
New Delhi, June 26
Punjab today made another fervent plea to the Planning Commission to waive the militancy-period loan on the state to free it from debt trap. The demand came at a meeting here today where the commission hiked the 2009-10 annual plan for the state by 39 per cent
Punjab Chief Minister Parkash Singh Badal presents a bouquet to Deputy Chairman of the Planning Commission Montek Singh Ahluwalia during a meeting to finalise the Annual Plan 2009-10 of the state, in New Delhi on Friday. Tribune photo: Manas Ranjan Bhui
CAST YOUR VOTE
Should Indian students continue to go abroad for studies?

EDUCATION
JOBS & CAREERS
HEALTH & FITNESS
SCIENCE & TECHNOLOGY
REAL ESTATE
SPORTS
TRIBUNE CLASSIFIEDS
Ties with Pak under stress: Krishna
New Delhi, June 26
Slowly but steadily, the India-Pakistan normalisation process is gaining momentum. The Foreign Ministers of the two countries today held a formal meeting on the margins of the 'Outreach' meeting of the G-8 countries at Trieste in Italy.
Maoists trigger landmine blasts
Ask CPM to release Gour or face attacks on its leaders
Kolkata, June 26
During their flushout operation at Lalgarh today, paramilitary forces and cops faced landmine attacks in as many as seven places in the Pingboni forest area, compelling them to halt at Kadasole for the day instead of advancing further to the destination at Ramgarh.
Finally, rains hit Mumbai
Mumbai, June 26
Rains finally hit Mumbai today giving some respite to the country's financial capital which has been reeling under a severe water shortage due to the delayed monsoon this year. The first major downpour of the season saw life in the city being thrown out of gear with roads getting waterlogged, and trains and buses running behind schedule.
NDA 60 Glorious Years
1857 The First Challenge
E - Revolution 2005:
A Two-day IT conclave
Assembly Elections - 2005
Turbans
Chandigarh is 50
125 Years of The Tribune
India: The Tasks Ahead
India at Sixty
A Tribune Supplement
EARLIER FEATURES
On Sundays
On Saturdays
Andhra villages to get bottled water
Hyderabad, June 26
An ambitious scheme to supply bottled mineral water for all villages in Andhra Pradesh will be launched on August 15. Mini-plants for bottling water will be set up in villages having a population of 1,500 and above.
Over a million Americans affected by swine flu
Washington, June 26
US health officials estimate that as many as one million Americans may now have the new H1N1 (swine) flu. Lyn Finelli, a flu surveillance official with the Centres for Disease Control and Prevention (CDC), voiced the estimate at a vaccine advisory meeting on Thursday in Atlanta.


King of Pop Jackson dies at 50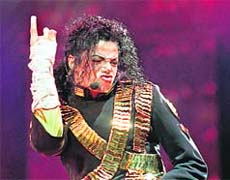 Michael Jackson, King of Pop who first enraptured audiences as a child star and eventually Moonwalked his way into the hearts of millions around the world, died of an apparent cardiac arrest in Los Angeles on Thursday.


Opinion page: Pop star who bridged eras
Maoists strike as PC visits Orissa
June 26, 2009
Poor monsoon this year
June 25, 2009
Maoists ready for talks, truce
June 24, 2009
CPI-Maoist declared terror outfit
June 23, 2009
Advani stands by Jaitley
June 22, 2009
Lalgarh thana recaptured
June 21, 2009
Govt returns Gujarat's anti-terror bill
June 20, 2009
Crackdown begins to reclaim Lalgarh
June 19, 2009
Maoists form human shield in Lalgarh
June 18, 2009
PM talks tough on terror with Zardari
June 17, 2009