PUNJAB
HARYANA
JAMMU & KASHMIR
HIMACHAL
REGIONAL BRIEFS
NATION
OPINIONS
LETTERS
BUSINESS
SPORTS
WORLD
Tuesday, February 2, 2010, Chandigarh, India
Updated at 3:00 am (IST)

'Shiv Sena contention a pernicious thesis'
PC says Mumbai belongs to all
New Delhi, February 1
Rejecting Shiv Sena contention of 'Mumbai for Maharashtrians' as "pernicious thesis", the Centre today said the financial capital belonged to all Indians who are free to live and work there. On Sena threats to Australian and Pakistani players' participation in the IPL cricket event in Mumbai, Home Minister P Chidambaram asserted that he would "guarantee them full security".
CAST YOUR VOTE
Should khap panchayats have any right to interfere in matrimonial matters?

Advt
EDUCATION
JOBS & CAREERS
HEALTH & FITNESS
SCIENCE & TECHNOLOGY
REAL ESTATE
SPORTS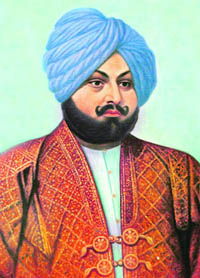 FOUNDER'S DAY: All of us pay our respectful tributes to Sardar Dyal Singh Majithia, who founded The Tribune 129 years ago this day.
Mumbai for marathis?
Gadkari widens Shiv Sena-BJP rift
New Delhi, February 1
The rift between the Shiv Sena and the BJP became wide open today with BJP president Nitin Gadkari, toeing the RSS line, strongly opposed the "Mumbai for Marathis" refrain of its oldest saffron ally, the Shiv Sena.

Uddhav Thackeray lashes out at Ram Madhav

Tiff an example of hypocrisy: Cong

Reserve jobs for ethnic Marathis: Raj
Rahman strikes double gold at Grammys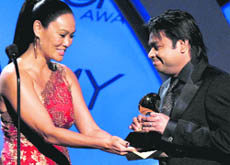 Los Angeles, February 1
Music maestro A R Rahman continued his winning spree by striking double gold at the 52nd Grammy Awards here but two other Indian hopefuls Ustad Amjad Ali Khan and Zakir Hussain lost out.
Tia Carrere presents AR Rahman with the Grammy in Los Angeles on Sunday. — AP/PTI
NDA 60 Glorious Years
1857 The First Challenge
E - Revolution 2005:
A Two-day IT conclave
Assembly Elections - 2005
Turbans
Chandigarh is 50
125 Years of The Tribune
India: The Tasks Ahead
India at Sixty
A Tribune Supplement
EARLIER FEATURES
On Sundays
On Saturdays
Several ifs, but Chidambaram hints at talks with Pak
New Delhi, February 1
A move that could gladden the hearts of peaceniks, India and Pakistan could soon be resuming the dialogue process, stranded after the November 26 (2008) Mumbai terror attacks.
India to host largest naval war game
New Delhi, February 1
A move aimed at securing the coast and ensuring that incidents like Mumbai terror attacks when foreign militants entered via sea route didn't happen again, India would be hosting the largest four-day naval war game, 'Milan-2010', involving 12 nations in the Bay of Bengal off the coast of Andaman and Nicobar Islands from February 4. The event will be held close to the world's busiest trade route in the straits of Mallaca.


UK gives no fixed date to resume visa service
Record applications from North baffled agencies
Chandigarh, February 1
Baffled by multifold increase in number of applications for student visa under Tier 4 of the points-based system, the British High Commission and its UK Border Agency — overseeing visa work — have refused to set any date for restoring normal visa service for students from north India.
Sopore gunbattle ends, Harkat militants escape
February 1, 2010

Pak court records evidence
January 31, 2010

PCB bars players from IPL
January 30, 2010

Stop outsourcing jobs: Obama
January 29, 2010

Rajapaksa wins second term
January 28, 2010

SC relief for deemed varsities
January 26, 2010

Former Pak air chief's photo in govt ad
January 25, 2010

Be ready for more terror strikes: Antony
January 24, 2010

LeT on glider shopping spree
January 23, 2010

Power boost to Bathinda rail link
January 22, 2010