PUNJAB
HARYANA
JAMMU & KASHMIR
HIMACHAL
REGIONAL BRIEFS
NATION
OPINIONS
LETTERS
BUSINESS
SPORTS
WORLD
Sunday, February 14, 2010, Chandigarh, India
Updated at 3:00 am (IST)

Terror strikes Pune; 9 dead

First major attack post-26/11

3 foreigners dead
Over 32 injured
Pune/Mumbai, February 13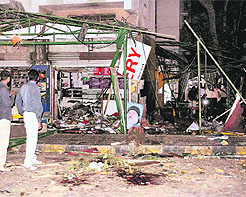 A bomb ripped apart a bakery popular with foreign tourists in Pune on Saturday, killing at least nine persons, including three foreigners, and injuring more than 45 in the first major attack since the Mumbai massacre of 2008.

Terror revisits: German Bakery in Pune where the blast took place on Saturday evening, killing nine persons. — PTI

Headley connection
Alert sounded
Political blame game
CAST YOUR VOTE
Should khap panchayats have any right to interfere in matrimonial matters?

Advt
EDUCATION
JOBS & CAREERS
HEALTH & FITNESS
SCIENCE & TECHNOLOGY
REAL ESTATE
SPORTS
Srikrishna panel ready with plan
Members to visit Hyderabad soon
New Delhi, February 13
Meeting for the first time after its formation, the high-level committee on Telangana, headed by retired Supreme Court judge Justice BN Srikrishna, today chalked out "certain plans", including visits to Hyderabad and other places, while examining demands for both separate Telangana and united Andhra Pradesh.
Nation page: Telangana leaders to resign today
Teen's Death
BSF suspends CO
Srinagar, February 13
The Border Security Force on Saturday suspended the Commandant of 68th Battalion in connection with the alleged killing of teenager Zahid Farooq here on
February 5.
NDA 60 Glorious Years
1857 The First Challenge
E - Revolution 2005:
A Two-day IT conclave
Assembly Elections - 2005
Turbans
Chandigarh is 50
125 Years of The Tribune
India: The Tasks Ahead
India at Sixty
A Tribune Supplement
EARLIER FEATURES
On Sundays
On Saturdays
Marines, NATO forces storm Taliban bastion
Marjah (Afghanistan), February 13
Thousands of US Marines and Afghan soldiers stormed the Taliban stronghold of Marjah before dawn today, sweeping by air and ground against scattered resistance into the biggest southern town under militant control.
UK partially lifts ban on student visas
New Delhi, February 13
Good news for students in North India wanting to go to the UK for studies. Britain's Minister for Business Innovation and Skills Pat McFadden today announced that from March 1 the Tier-4 visa application suspension in North India will be lifted for all students wanting to undertake higher education courses, whether foundation degrees, undergraduate or postgraduate.
Elderly inmates want to die as free men
Legal hurdles in way of their release
Bathinda, February 13
Two elderly inmates of the Central Jail here are aspiring to die as free men, but legal hurdles are coming in the way of their release. The two, Harnek Singh (98) and Mahabir Prasad (85), are undergoing imprisonment on the charges of murder and are now in a very bad state of health.
TRS cries 'betrayal' over Centre's terms
February 13, 2010

Centre ready for amnesty to Kashmiri ultras in PoK
February 12, 2010
Shiv Sena stirs more trouble over Khan
February 11, 2010
No to Bt Brinjal, for now
February 10, 2010
Avalanche turns grave for 17 Army men in J&K
February 9, 2010
CMs one on internal security
February 8, 2010
Panel to tackle price pangs
February 7, 2010
Rahul hops onto Mumbai trains to snub Shiv Sena
February 6, 2010
Let's talk, India tells Pak
February 5, 2010