PUNJAB
HARYANA
JAMMU & KASHMIR
HIMACHAL
REGIONAL BRIEFS
NATION
OPINIONS
LETTERS
BUSINESS
SPORTS
WORLD
Monday, April 12, 2010, Chandigarh, India
Updated at 3:00 am (IST)

Obama's high-wire act to prevent nuclear terror
Leaders of 44 nations, including India, at summit
WASHINGTON DC
Sunday, April 11
America's capital is experiencing an unusually fickle spring with temperatures soaring on one day and the next day a chill setting in. Few Americans are complaining though - the air is crisp, the cherry trees that line Independence Avenue are still in full blossom and birds chatter away joyously.


Raj Chengappa
Editor-in-Chief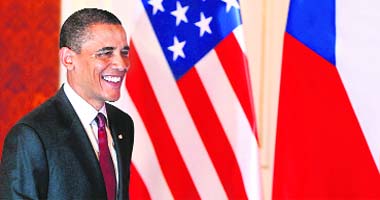 CAST YOUR VOTE
Should politicians be allowed to withdraw so-called vendetta cases against MLAs?

EDUCATION
JOBS & CAREERS
HEALTH & FITNESS
SCIENCE & TECHNOLOGY
REAL ESTATE
SPORTS
A Tribune Exclusive
Cobalt-60 imported as industrial waste?
New Delhi, April 11
It is highly unlikely that cobalt 60, the radioactive isotope that made it to a scrap dealer's shop in West Delhi a few days ago and left five persons critically ill, came from hospital or industrial waste originating in India.


ALL ABOUT COBALT
Realtors may hike property prices
Chandigarh, April 11
A time when investors were happy at the markets bouncing back and the economy once again taking the growth track, here is a bad news for those wanting to invest in property: the discount period in housing schemes is over and an upward revision in prices is now imminent.
UNION BUDGET 2010-11
RAILWAY BUDGET
2010-11
NDA 60 Glorious Years
1857 The First Challenge
E - Revolution 2005:
A Two-day IT conclave
Assembly Elections - 2005
Turbans
Chandigarh is 50
125 Years of The Tribune
India: The Tasks Ahead
India at Sixty
A Tribune Supplement
EARLIER FEATURES
On Sundays
On Saturdays
India developing sub-sonic 1,000-km cruise missile
Bangalore, April 11
India was developing a sub-sonic 1,000-km range cruise missile "Nirbhay" which could be used for a "variety of applications", a top military scientist said today.
Maoists warn of more attacks
Purulia (WB), April 11
The CPI-Maoist today warned of more Dantewada-type attacks on security forces if the Centre carried on with the anti-Maoist offensive even as it expressed sympathy for the families of the 76 jawans killed and offered compensation.
Oppn mulls cut motion over fuel hike
New Delhi, April 11
Tough times appear ahead for the government with about a dozen non-NDA, non-UPA parties meeting here tomorrow to finalise strategy for a cut motion against the finance bill to force rollback of the hike in prices of petroleum products.


testing times ahead for government


Dhindsa meets Indians on death row


Convicts resent apathy of Indian Mission, employers
Chandigarh, April 11
Former Union Minister for Chemicals and Fertilisers and general secretary of the SAD Sukhdev Singh Dhindsa was the first senior Indian political leader to meet all 17 Indians facing death sentence in a UAE prison today.
Polish Prez, wife among 97 killed in air crash
April 11, 2010
Buck stops at my desk: Chidambaram
April 10, 2010
US, Russia ink pact to cut N-arsenal
April 9, 2010
If this is war, we will fight back, says PC
April 8, 2010
Bloodbath by Naxals
April 7, 2010
Mamata joins the Yadavs, pitches in for sub-quota
April 6, 2010
The buck stops with you, PC tells Buddha
April 5, 2010
Eye on youth, Punjab keeps 58 as retirement age
April 4, 2010
Terror on tracks: Ultras target Kashmir rail link
April 3, 2010
Education becomes a basic right
April 2, 2010