PUNJAB
HARYANA
JAMMU & KASHMIR
HIMACHAL
REGIONAL BRIEFS
NATION
OPINIONS
LETTERS
BUSINESS
SPORTS
WORLD
Thursday, April 29, 2010, Chandigarh, India
Updated at 3:00 am (IST)

Jharkhand heads for Presidentís Rule
Miffed BJP does a flip-flop on support to BJP
New Delhi, April 28
A miffed BJP today decided to withdraw support to the four-month old JMM-led government in Jharkhand, in which BJPís Raghubar Das is the Deputy Chief Minister. The decision taken by the partyís parliamentary board followed Sorenís surprise vote for the UPA in the Lok Sabha yesterday.
Regional ties need of hour: PM
n Calls for freer movement of people, goods, services
n Announces setting up of fund to tackle climate change
Thimphu, April 28
Prime Minister Manmohan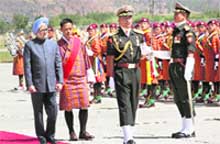 Singh today cautioned the SAARC member states that the regional grouping runs the risk of marginalisation and stagnation if it failed to influence the global discourse on issues of concern to humankind.
Prime Minister Manmohan Singh along with his Bhutanese counterpart Jigme Y Thinley inspects the guard of honour on his arrival at Paro Airport in Thimphu on Wednesday. ó PTI

CAST YOUR VOTE
Should politicians be allowed to withdraw so-called vendetta cases against MLAs?

EDUCATION
JOBS & CAREERS
HEALTH & FITNESS
SCIENCE & TECHNOLOGY
REAL ESTATE

SPORTS & WELLNESS
SAARC vows to take on terror


The 16th SAARC summit began here on Wednesday with Prime Minister Manmohan Singh and leaders of seven other member nations pledging to combat extremism and terrorism, launch joint initiatives to deal with climate change and boost intra-regional trade.
Bhutan Diary
Gross national happiness aim
Manmohan to meet Pak PM today


Itís official now. After days of speculation, decks were cleared today for the much-anticipated meeting between Prime Minister Manmohan Singh and his Pakistani counterpart Yousaf Raza Gilani here tomorrow on the margins of the SAARC Summit.
UNION BUDGET 2010-11
RAILWAY BUDGET
2010-11
NDA 60 Glorious Years
1857 The First Challenge
E - Revolution 2005:
A Two-day IT conclave
Assembly Elections - 2005
Turbans
Chandigarh is 50
125 Years of The Tribune
India: The Tasks Ahead
India at Sixty
A Tribune Supplement
EARLIER FEATURES
On Sundays
On Saturdays
India to get direct access to Headley
Top justice officials from India and the U.S. on Tuesday agreed to work toward providing India direct access to David Coleman Headley, the Pakistani American who had admitted to carrying out reconnaissance ahead of the Mumbai attacks in 2008.
Water Woes-II
Potable water scarcity hits Punjab
Chandigarh, April 28
Supply of potable water through pipelines will soon be part of history. People will have to get their daily quota of potable water from the nearest reverse osmosis (RO) centre. However, this quota of purified water will be just enough to meet an individualís demand for drinking and cooking purposes. The National Public Health Organisation has recommended 150 litre per capita per day (LPCPD). Instead of meeting that requirement, Punjab is still making efforts to enhance the quota of daily potable water supply from 40 LPCPD to 70 LPCPD.
Joint Secretary held for graft
New Delhi, April 28
Two senior bureaucrats posted in the Ministry of Home Affairs (MHA) were today arrested on corruption charges in two separate cases by the CBI which also conducted raids at their houses. A case under the Prevention of Corruption Act has been registered against O Ravi, Joint Secretary (Disaster Management), MHA, two excise inspectors ó Ramesh Mahyavanshi and Vijay Halpati ó and sub-inspector Suresh Dhodi, said the CBI. They along with directors of six distilleries have been accused of causing a loss of Rs 340 crore to the state exchequer.
UPA bulldozes Oppnís cut motions
April 28, 2010
Amarinderís expulsion quashed by SC
April 27, 2010
IPL final sees Modiís ouster
April 26, 2010
Modi lobbies for support as BCCI plans his ouster
April 25, 2010
Oppn wants JPC probe into IPL
April 24, 2010
Modi grilled third time, it is BCCIís turn today
April 23, 2010
Taxmen raid IPL franchisees
April 22, 2010
Modi inches closer to exit
April 21, 2010
IPL guilty wonít be spared: Pranab
April 20, 2010
Tharoor quits post & pal Sunanda franchise
April 19, 2010