PUNJAB
HARYANA
JAMMU & KASHMIR
HIMACHAL
REGIONAL BRIEFS
NATION
OPINIONS
LETTERS
BUSINESS
SPORTS
WORLD
Thursday, May 6, 2010, Chandigarh, India
Updated at 3:00 am (IST)

No lie detector tests: SC
'Narco, polygraph & brain mapping invade privacy'
New Delhi, May 5
In a verdict expected to weaken cases against terrorists, other dreaded criminals and high-profile offenders, the Supreme Court today cited "mental privacy" to rule that police and other prosecuting agencies cannot forcibly conduct lie detector tests — narcoanalysis, polygraph or brain electrical activation profile (BEAP, popularly known as brain mapping) — on accused, suspects or witnesses.
SC ban on Narco tests
Shahzad admits he trained in Pak
New York, May 5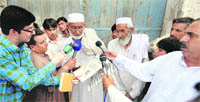 Pakistani-American Faisal Shahzad, arrested for the failed Times Square bomb plot, has admitted to attending a terrorist training camp in Pakistan.
Local man Nazirullah speaks to the media in Shahzad's ancestral village on Wednesday. — Reuters
CAST YOUR VOTE
Should India and Pakistan resume composite dialogue?

EDUCATION
JOBS & CAREERS
HEALTH & FITNESS
SCIENCE & TECHNOLOGY
REAL ESTATE

SPORTS & WELLNESS
LS War of Words
Speaker's reprimand fails to sober MPs
New Delhi, May 5
Speaker Meira Kumar's attempt to bring some order into the Lok Sabha by reprimanding Trinamool Congress MP Sudip Bandopadhyay for using intemperate language in the House failed to deter and sober BJP leader Ananth Kumar who, within minutes of the House resuming order, called RJD chief Lalu Prasad a traitor causing another series of adjournments.
Aiyar's 'fascist' remarks stall Rajya Sabha (Nation page)
Special to the tribune
Two NRIs capture public imagination
Whatever the outcome of Thursday's general election in the UK, two Punjabi NRIs and prospective parliamentary candidates, known locally as PPCs, are on course to enter the record books.
Record number of Asians in fray
UNION BUDGET 2010-11
RAILWAY BUDGET
2010-11
NDA 60 Glorious Years
1857 The First Challenge
E - Revolution 2005:
A Two-day IT conclave
Assembly Elections - 2005
Turbans
Chandigarh is 50
125 Years of The Tribune
India: The Tasks Ahead
India at Sixty
A Tribune Supplement
EARLIER FEATURES
On Sundays
On Saturdays
MCI issue: Law Ministry says it has no role to play
New Delhi, May 5
The Ministry of Law and Justice is learnt to have told the Health Ministry that it had no role to play in the Medical Council of India as per the existing laws. The legal experts reacted in a negative to a clarification sought by health minister Ghulam Nabi Azad, who wanted to know if he could put eminent doctors in charge of Medical Council of India affairs while its president Ketan Desai faced a CBI probe for bribery charges.
No decision in Gian Sagar College case
Cobalt-60 Fiasco
All radioactive material recovered
New Delhi, May 5
Delhi can breathe easy as the Department of Atomic Energy today said its experts have accounted for all radioactive Cobalt-60 pencils originally present in the gamma cell sold by Delhi University to scrap dealers. In brazen violation of laid down rules, DU had auctioned off the gamma cell and one person later died and seven were injured due to radiation from the radioactive material. It is said to be India's worst ever radiation leak and the world's biggest such crisis in the past four years.
54 PoWs in Pak jails, says Centre
New Delhi, May 5
Union External Affairs Minister SM Krishna today said that as per available information 54 prisoners of war (PoW) are believed to be languishing in Pakistani jails after 1971 while 20 defence personnel are missing. In a reply to a query by Ludhiana MP Manish Tewari in Parliament, Krishna said a tri-service committee under the Defence Ministry had been formed to look into the matter, which had been repeatedly raised with Pakistan through various diplomatic channels.
Kasab's head, nothing less, says prosecution
May 5, 2010
Verdict out, Kasab guilty
May 4, 2010
Gill applies brakes on tenure of Kalmadi & Co
May 3, 2010
Bottlenecks for access to Headley cleared
May 2, 2010
2 CRPF jawans held for selling arms to Naxals
May 1, 2010
Summit leads to thaw in Indo-Pak ties
April 30, 2010
Jharkhand heads for President's Rule
April 29, 2010
UPA bulldozes Oppn's cut motions
April 28, 2010
Amarinder's expulsion quashed by SC
April 27, 2010
IPL final sees Modi's ouster
April 26, 2010