PUNJAB
HARYANA
JAMMU & KASHMIR
HIMACHAL
REGIONAL BRIEFS
NATION
OPINIONS
LETTERS
BUSINESS
SPORTS
WORLD
Sunday, May 30, 2010, Chandigarh, India
Updated at 3:00 am (IST)

New education draft has states smiling
Fresh version gives them right to appoint VCs
New Delhi, May 29
The proposed overarching regulator for higher education in India will not be "all-powerful" and "centralised." Following stiff opposition from the state governments, some of which (Tamil Nadu, Kerala, West Bengal and Gujarat) rejected the old draft of the National Commission for Higher Education and Research (NCHER) Bill 2010 as anti-federal, the Centre-appointed taskforce working on the draft law today finalised its "federal" version, allaying the concerns of states.
Mamata screams conspiracy
n Centre agrees to CBI probe
n Toll mounts to 141
n Rescue operations continue
Kolkata, May 29
On the eve of the crucial electoral battle for 81 municipalities seen as the 'semi-final' to next year's West Bengal assembly elections, Railways Minister Mamata Banerjee called yesterday's Howrah-Kurla Gyaneshwari Express derailment a "political conspiracy" but was quick to add that she did not know who was behind it. She said that the Central Bureau of Investigation (CBI) would conduct a probe into yesterday's mishap, even as the toll mounted to 141 (state Civil Defence Minister Srikumar Banerjee put it at 119).
CAST YOUR VOTE
Should the execution of Ajmal Kasab's death sentence be put on fast track?

EDUCATION
JOBS & CAREERS
HEALTH & FITNESS
SCIENCE & TECHNOLOGY
REAL ESTATE
SPORTS & WELLNESS
Maoists identified: DGP
Driver files FIR, mum on Maoists
Karat opposes use of military against Naxals


Crane carries out rescue work at the accident site at Saridha in West Midnapore district on Saturday. — PTI
Special to The Tribune
US plans military strike if terror plot traced to Pak
The United States military is looking at options for a unilateral military strike against Pakistan should there be a major terrorist incident in America that is traced to Pakistan, The Washington Post reported over the weekend.
'Fake' Encounter
Major booked, jawan arrested
Nadihal (Baramulla), May 29
A Major and a Territorial Army jawan, Abbas Hussain Shah, were today booked for the killing of three civilians in an alleged fake encounter in the Machil sector in Kupwara district on April 30. The jawan was arrested too.
UNION BUDGET 2010-11
RAILWAY BUDGET
2010-11
NDA 60 Glorious Years
1857 The First Challenge
E - Revolution 2005:
A Two-day IT conclave
Assembly Elections - 2005
Turbans
Chandigarh is 50
125 Years of The Tribune
India: The Tasks Ahead
India at Sixty
A Tribune Supplement
EARLIER FEATURES
On Sundays
On Saturdays
Cheers on monsoon front
Likely to hit Kerala around Monday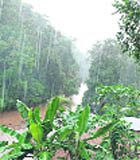 New Delhi, May 29
Amid all the sadness that India witnessed for the past one week there appears to be some cheer from the India Meteorological Department (IMD), which yesterday said that the southwest monsoon is also set to arrive over the southern-most tip of India, Kerala, around Monday and progress further in ensuing days.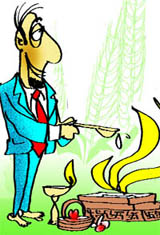 Tackling farm pests with 'havan'
Dharamsala, May 29
Scientists at Palampur Agriculture University are using vedic mantras, "havan" and ringing of bells to promote organic farming. While occasional visitors are caught by surprise at the chants, the seemingly religious activity is an experimental project taken up by the department of organic farming in Chaudhary Sarwan Kumar Himachal Pradesh Krishi Vishvavidyalaya.
Maoists target train, 76 dead
May 29, 2010
AI limps back to normalcy
May 28, 2010
Air India strike off, 15 union members sacked
May 27, 2010
Rathore arrested, sent to jail
May 26, 2010
Good ties with Pak to benefit India: PM
May 25, 2010
Time for Re-alliance
May 24, 2010
Mangalore air crash kills 158
May 23, 2010
Miles to go
May 22, 2010
Won't quit, won't share power: Soren
May 21, 2010
The 3G bonanza
May 20, 2010