PUNJAB
HARYANA
JAMMU & KASHMIR
HIMACHAL
REGIONAL BRIEFS
NATION
OPINIONS
LETTERS
BUSINESS
SPORTS
WORLD
Sunday, May 23, 2010, Chandigarh, India
Updated at 3:00 am (IST)

Mangalore air crash kills 158
Air India plane overshoots runway before bursting into flames; 8 survive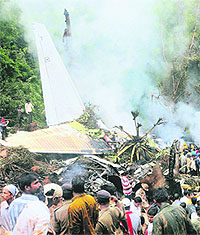 Bangalore, May 22
In one of the worst aviation tragedies in the country, 158 persons were killed when an Air India Express Boeing plane from Dubai overshot the runway, went down a ravine and burst into flames at the Mangalore International Airport today.
Rescue operation on at the site of the crashed Air India passenger plane in Mangalore on Saturday. — Reuters

Graphic: Fatal Landing: Mangalore Air Crash
Nation page

Survivors recount ordeal

Pilot was of Serbian origin

It was Kamulkar's dream to soar

Kin to get Rs 76 lakh compensation

Country has three table-top airfields
What went wrong?
Govt points finger at shorter runway, experts say could be pilot error
New Delhi, May 22
The Air India Express flight IX-812 aircraft that crashed at Mangalore was piloted by Z Glucia — a Serbian national — with first officer Capt SS Ahluwalia as his co-pilot.
CAST YOUR VOTE
Should the execution of Ajmal Kasab's death sentence be put on fast track?

EDUCATION
JOBS & CAREERS
HEALTH & FITNESS
SCIENCE & TECHNOLOGY
REAL ESTATE
SPORTS & WELLNESS
Leaders mourn tragedy
PM postpones anniversary dinner
New Delhi, May 22
Expressing deep shock over the tragic air accident in Mangalore, Prime Minister Manmohan Singh today postponed all functions, including the dinner at his residence, to mark the first year of the UPA-II government.
A320 aircraft to ferry victims' kin
New Delhi, May 22
Air India has decided to operate a larger aircraft on the Delhi-Mangalore sector instead of its regular Canadian Regional Jet (CRJ) aeroplane in order to fly family members of the crash victims, arriving from abroad as well as from within the country, to Mangalore.
| | |
| --- | --- |
| | PUNJAB: Farmers demand extension of dam on Ghaggar |
| | |
| | |
| | HIMACHAL: Bonanza for horticulturists |
| | CHANDIGARH: It's official: Theme park project scrapped |
UNION BUDGET 2010-11
RAILWAY BUDGET
2010-11
NDA 60 Glorious Years
1857 The First Challenge
E - Revolution 2005:
A Two-day IT conclave
Assembly Elections - 2005
Turbans
Chandigarh is 50
125 Years of The Tribune
India: The Tasks Ahead
India at Sixty
A Tribune Supplement
EARLIER FEATURES
On Sundays
On Saturdays
Punjab & Haryana HC has 16 'uncle judges'
Chandigarh, May 22
The Punjab and Haryana High Court has as many as 16 Judges with their kith and kin practising in the same court. The Chief Justice of the Punjab and Haryana High Court has already forwarded their list to the Union Ministry of Law and Justice.
Special to The Tribune
Punjabi colour in UK Cabinet cause to cheer
The appointment of a Punjabi to serve in the British cabinet — the first time in history that this has ever happened — is a cause for celebration.
(Details on World page)

Kaithal, May 22
Some good news from the heartless Haryana heartland notorious for its khap panchayats and caste violence: Defying all odds, a young girl from a poor Dalit family of Kaithal today scaled Mt Everest.



Hope peaks

: Mamta Sodha with her mother. This poor Dalit girl conquered all odds to emerge a winner. Photo by the writer

Miles to go
May 22, 2010
Won't quit, won't share power: Soren
May 21, 2010
The 3G bonanza
May 20, 2010
It's musical chairs in Jharkhand
May 19, 2010
Dantewada again, toll 36
May 18, 2010
Bangkok bleeds
May 17, 2010
Jihadis camping in PoK to sneak into India
May 16, 2010
3 Pakistani aides of NY bomb plotter held
May 15, 2010
Centre clears decks for first defence varsity
May 14, 2010