EDUCATION
JOBS & CAREERS
HEALTH & FITNESS
SCIENCE & TECHNOLOGY
REAL ESTATE
SPORTS & WELLNESS
Still made for each other
But the faultlines are showing between the PM and the 'Prime Monitor'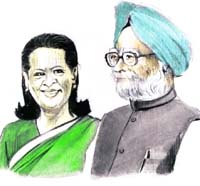 They are the UPA's dynamic duo and both are PMs. Manmohan Singh is of course the Prime Minister while the Congrss President is called by precocious Congressmen as the 'Prime Monitor', all in good humour of course.

Sonia Gandhi and Manmohan Singh. Illustration by Sandeep Joshi

Canadian mission dubs BSF 'notorious' force
Denies immigration to retd Ludhiana trooper
Ludhiana, May 21
In what could turn into a diplomatic battle between India and Canada, the Canadian High Commission in New Delhi has dubbed the Border Security Force (BSF) as a "notoriously violent paramilitary unit" stationed in sensitive areas, attacking civilians and torturing suspected criminals.
UNION BUDGET 2010-11
RAILWAY BUDGET
2010-11
NDA 60 Glorious Years
1857 The First Challenge
E - Revolution 2005:
A Two-day IT conclave
Assembly Elections - 2005
Turbans
Chandigarh is 50
125 Years of The Tribune
India: The Tasks Ahead
India at Sixty
A Tribune Supplement
EARLIER FEATURES
On Sundays
On Saturdays
Is Jaswant Singh returning to BJP?
Jaipur, May 21
Never say never in politics. This seems to be the case

with former External Affairs Minister Jaswant Singh as speculations about his return to the BJP are rife in political circles. The initial indications of his return to party fold came after the death of former Vice-President and BJP stalwart Bhairon Singh Shekhawat here last week. Jaswant Singh
Stalemate persists in Jharkhand
BJP clueless l Congress hesitant l 'Chinks' in JMM
New Delhi, May 21
Even as the Congress is maintaining a wait and watch policy on Jharkhand, the BJP appears clueless on the happenings in the state, with reports emanating from Ranchi indicating a split in the ruling JMM over supporting a BJP-led government.

The birth of artificial life
Washington, May 21
Indian-origin scientists are part of a team that has for the first time created a synthetic cell, controlled by man-made genetic instructions, which can also reproduce itself. The 24-member team included Sanjay Vashee, Radha Krishnakumar and Prashanth P. Parmar.
Won't quit, won't share power: Soren
May 21, 2010
The 3G bonanza
May 20, 2010
It's musical chairs in Jharkhand
May 19, 2010
Dantewada again, toll 36
May 18, 2010
Bangkok bleeds
May 17, 2010
Jihadis camping in PoK to sneak into India
May 16, 2010
3 Pakistani aides of NY bomb plotter held
May 15, 2010
Centre clears decks for first defence varsity
May 14, 2010
India should not hold talks with Pak: BJP chief
May 13, 2010